"I lost everything except for these pyjamas," said Fred Osazuwa, bewildered and covered in mud, as he surveyed the mess left of his home after Italy's deadly floods.
"But me and my family, we are alive. I thank god…we are OK," the 58-year-old told AFP in Faenza, one of the hardest-hit areas after heavy rains caused devastation across the northeastern Emilia Romagna region.
READ ALSO: Italy's flood death toll rises to 14 as government urged to act on climate
At least 14 people have been confirmed dead in the floods, the latest a man in Faenza, a picturesque city usually surrounded by green pastures and vineyards but this week left largely underwater.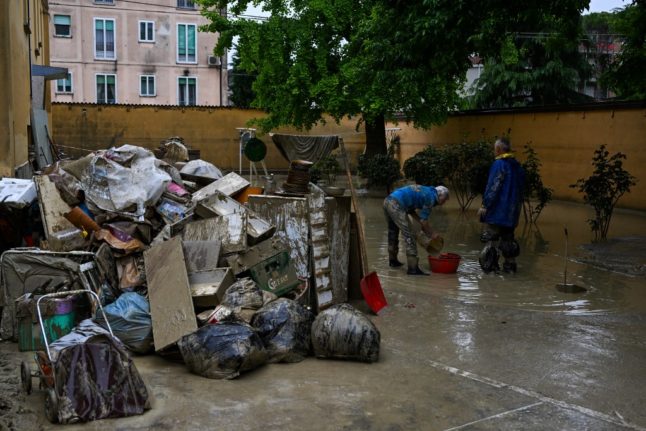 Soggy furniture and personal belongings are piled up in a muddy courtyard in Faenza, Emilia Romagna. Photo by Andreas SOLARO / AFP
Standing in thick mud, Osazuwa described how his kitchen was submerged after flood waters rose by two metres in just a few hours.
Now he and his wife, helped by friends, have brought out the fridge, washing machine, food and piles of clothes as they try to clean up inside.
In the building opposite, Tommaso Conti goes back and forth with his broom, trying to make a dent in the mud and water that filled the cellars when the nearby Lamone river burst its banks.
READ ALSO: EXPLAINED: Why has flooding in northern Italy been so devastating?
"We started early this morning and will probably be working all day," said the 21-year-old, adding that they were hoping a tractor would come to help them soon.
This is not his own home, "but we know people who live here and it seemed right to lend a hand", he said.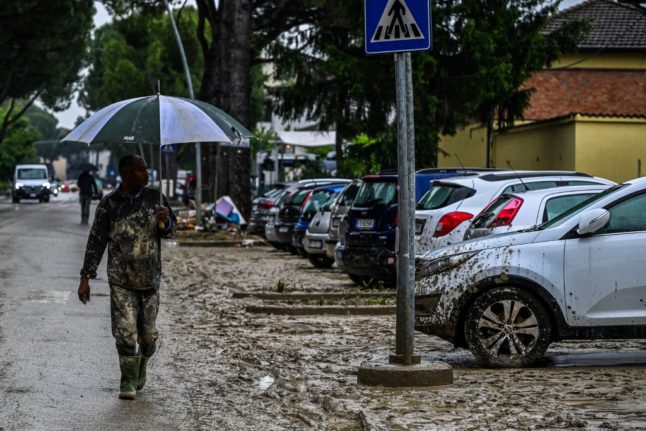 A resident walks down a muddy street in Faenza, Emilia Romagna. Photo by Andreas SOLARO / AFP
Half a year's worth of water fell in just 36 hours earlier this week, causing almost two dozen rivers in the region around Ravenna, Cesena and Forlì to burst their banks, submerging neighbourhoods and huge tracts of farmland.
In Faenza, as elsewhere, many of the 60,000 residents have pulled together to try to restore some sense of order in their water-logged streets and homes.
READ ALSO: How you can help people affected by flooding in northern Italy
"We have already done a good job, the situation has improved in two days, but we still have to clean everything up," said 34-year-old student Yuri Galeotti.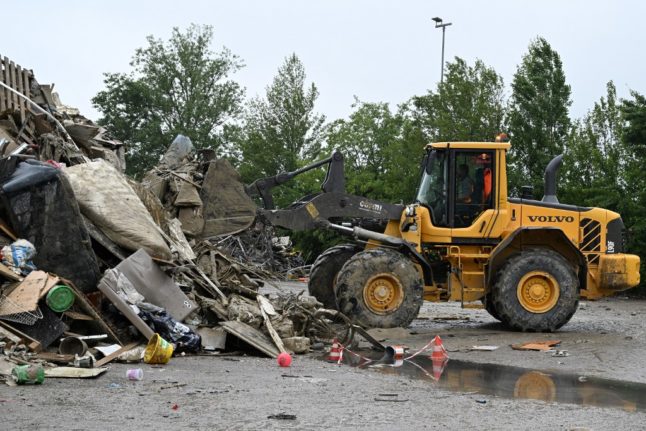 A digger adds to a pile of mud-covered furniture in Faenza, Emilia Romagna. Photo by Andreas SOLARO / AFP
He considers himself "lucky" to live on the third floor of his building – the basement was flooded, but water did not reach his apartment. "All the neighbours who are on the ground or first floors had two metres of water, and everything has to be thrown away," he said.
On the road behind him, breakdown vehicles remove cars submerged or swept away in the floodwaters. Further down the street, a family use shovels and brooms to try to clear the debris, with little effect.
Mud clings to everything, and it starts to rain again.
By AFP's Hélène Dauschy