Produced by The Local's Creative Studio in partnership with SJ
Rail renaissance: 
Discover the best of Sweden by train 
this summer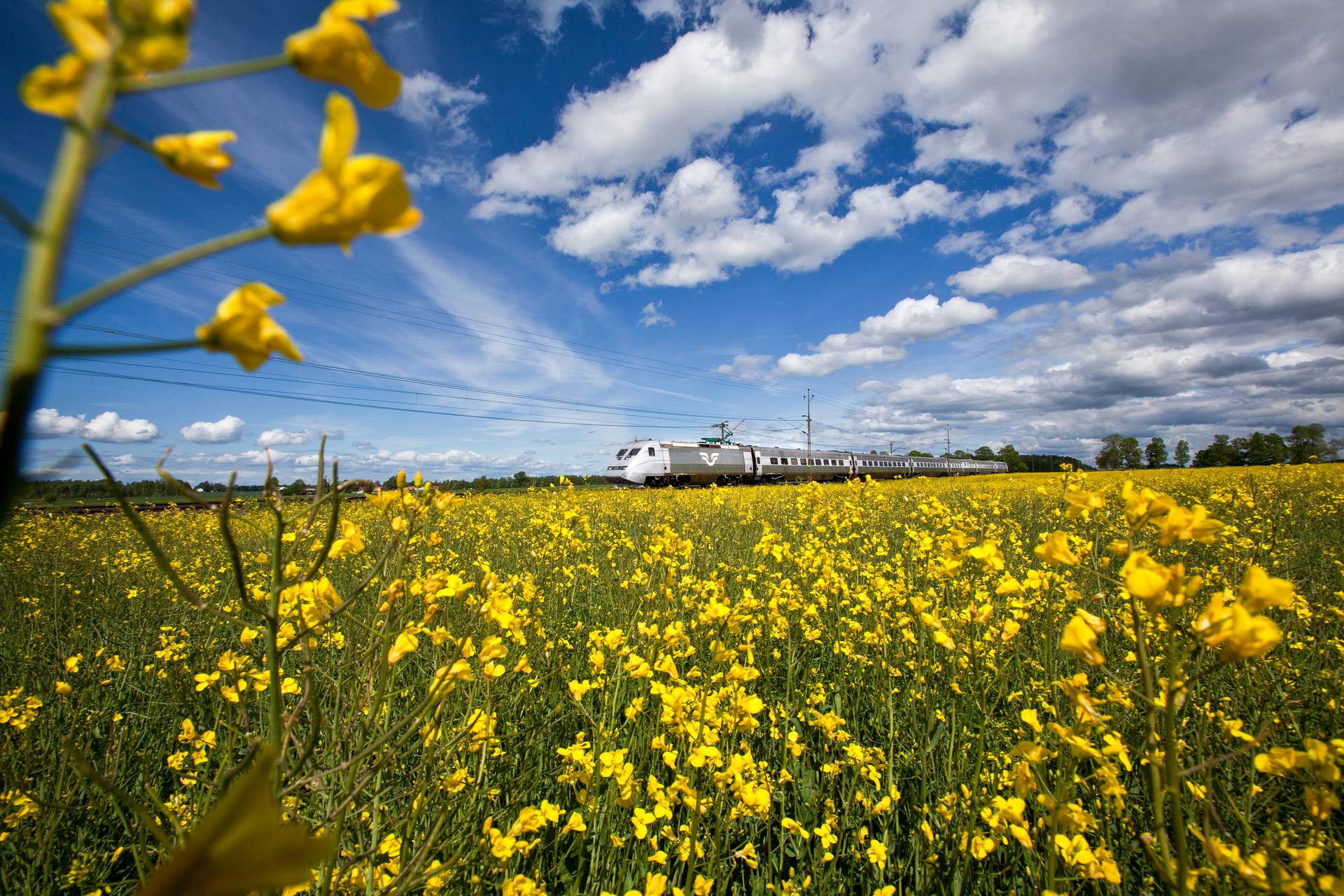 Rail Renaissance: Discover the best of Sweden by train this summer
From the mountains in the north to the beaches in the south, Sweden's landscape offers a wealth of enchanting views and opportunities to connect with nature.
If you're an international resident, however, you may not have seen nearly as much of your adopted home country as you'd like.
Worry not! Now is the time to make summer plans, and there's no more relaxing way to get around Sweden than by train. No airport queues! No guilt about your carbon footprint! No arguments about whether you or the sat-nav was to blame for the missed turn!
Instead, sit back, enjoy a fika or a glass of wine from the bistro and start discovering the best of Sweden via the spellbinding views from your window before you even arrive. Got kids? They love the adventure of a train ride (as well as the electrical sockets for their tablet!)
Want to see more of Sweden? Take a look at SJ's train routes to see how you could discover the best of the country this summer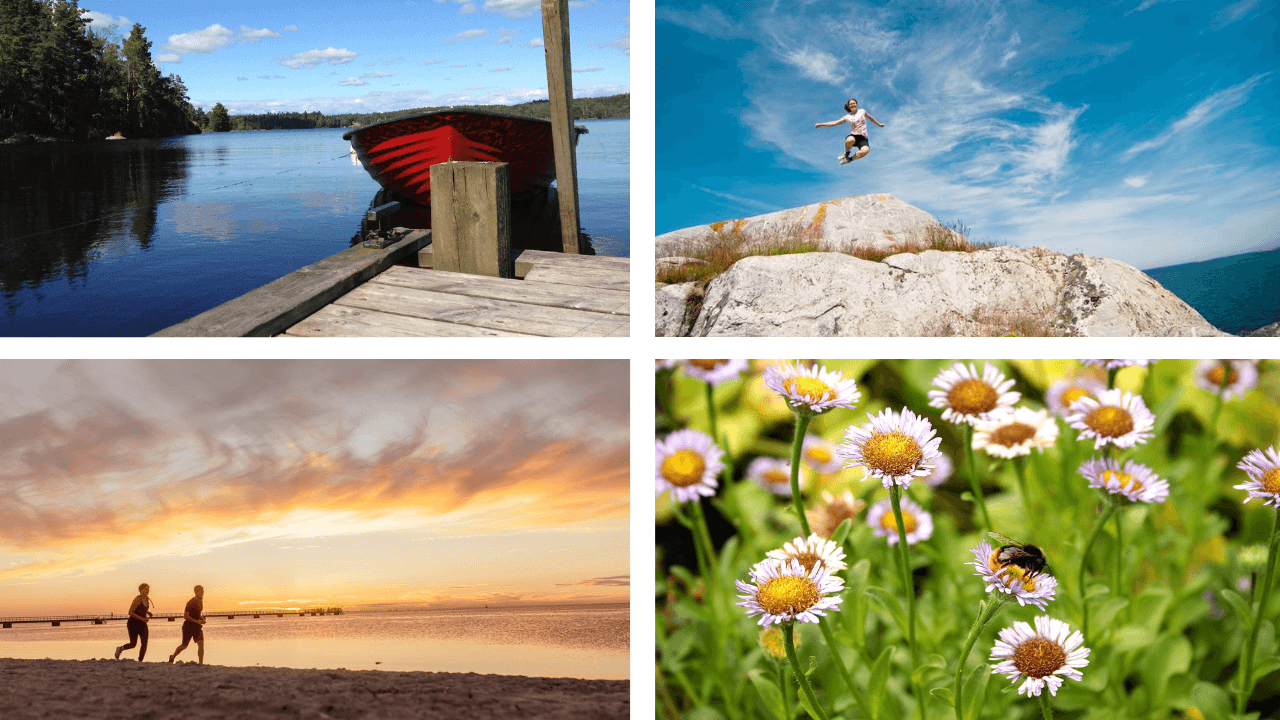 The north of Sweden
Sweden is the EU's third biggest country by land area and for most inhabitants the north can seem a long way away. But head there by train in summer and the journey will soon seem like a treat rather than an effort as you admire the wilderness just outside your window.
Nor is going all the way to the far north the only option. Catch a train to Örnsköldsvik (around six to seven hours from Stockholm) to get a taste of the High Coast. Set on the Gulf of Bothnia, this coastline is a UNESCO World Heritage site and richly deserves its name; at 286 metres above sea level, it's the highest coastline in the world!
The region also offers a stunning archipelago and some of Sweden's best opportunities for hiking, climbing and watersports. If you prefer leisurely cultural pursuits, there are centuries-old fishing villages and Nämforsen's Bronze Age rock carvings. 
Hop back on the train for a short ride further north to reach Umeå. One of Europe's fastest-growing cities, it's known for its interactive museums, birch trees, and easy access to hiking trails.
The south of Sweden
If you love the sun, maybe this is the year to ditch the Mediterranean and stay closer to home. Sweden is expecting an unusually hot summer and boasts plenty of alluring white sandy beaches, especially in the south. Unlike many beaches in Spain or France, you'll have plenty of choice about where to lay your towel and the sea water will be perfect for a cooling dip.
In Skåne, Sandhammaren is one of the best-loved beaches and also offers nature reserves nearby. Skanör – only 30 km from Malmö train station by bus or car – has been described as Sweden's St. Tropez. Colourful bathing huts add to its lively character, while snorkellers and swimmers love its sparkling waters.
Beyond the beaches, over on the southeast coast is the World Heritage Site of Karlskrona. The capital of Blekinge County, Karlskrona is an historic and well-preserved naval city spread across 30 islands.
Want a train journey as memorable as any destination? The Malmö-Helsingborg route passes through the idyllic farmland of Lundaslätten plain and alongside the Öresund Strait, which separates Sweden and Denmark.
Head north or south with SJ trains this summer to experience Sweden's varied regions while the sun shines 
Central Sweden
In the heart of Sweden lies Dalarna. With its rich history, craft traditions and varied landscapes, this county has laid claim to the title of 'Sweden in miniature'. Falun, the capital of Dalarna, is just two-and-a-half hours from Stockholm by train (and around double that from Gothenburg).
Once you've arrived you'll find colourful flower meadows, forests with endless walking trails, and lakes that fill visitors with a sense of tranquility. The rust-red cottages dotting the landscape have become a symbol of all of Sweden – but the distinctive colour of the paint stems from the addition of debris from Falun copper mine.
Want to go deep into the heart of Sweden? On the train from Borlänge to Mora, you'll see traditional small towns and have the chance to spot wildlife such as deer when the forest occasionally opens up before you. As you approach Mora, you'll enjoy fine views of Lake Siljan, which is particularly unforgettable at sunset. 
To the north of Dalarna is Jämtland, a region with unique flora and fauna, accessible wilderness and an exciting gastronomic scene. The area also offers a huge variety of exciting summer activities, including trail running, rafting and one of the world's biggest bike parks. Åre in Jämtland is the largest mountain resort in northern Europe. 
The east of Sweden
East Sweden is easy to reach from Sweden's major population centres, particularly Stockholm. Visitors can combine a few days in one or more of the region's cities with a fuller escape from daily life by heading to Lake Vättern, the surrounding valleys, or one of Europe's northernmost beech forests. 
Norrköping, once known for its textiles industry and known as 'Sweden's Manchester', is little more than an hour from Stockholm on the fast train. It offers distinctive architecture and is close to Kolmården Wildlife Park, Scandinavia's biggest zoo.
Take the train to the university city of Linköping (under two hours from the capital), to admire the country's best-preserved medieval cathedral (beware neck pain – it's 107 metres tall!) From the city, it's a short train ride to Motala, a great starting point for experiencing Lake Vättern, Sweden's second largest lake. 
Head down to Omberg if you want an invigorating hike taking in the beech forest, hay meadows, and the lake's dramatic slopes.
Further down Sweden's southeast coast is the charming city of Kalmar. Located in Småland county, Kalmar is an award-winning architectural gem and home to Europe's biggest dinosaur exhibition (housing 200 skeletons!). It's also the gateway to the dreamy summer island of Öland and home to Kalmar Slott, one of Sweden's most impressive and important castles.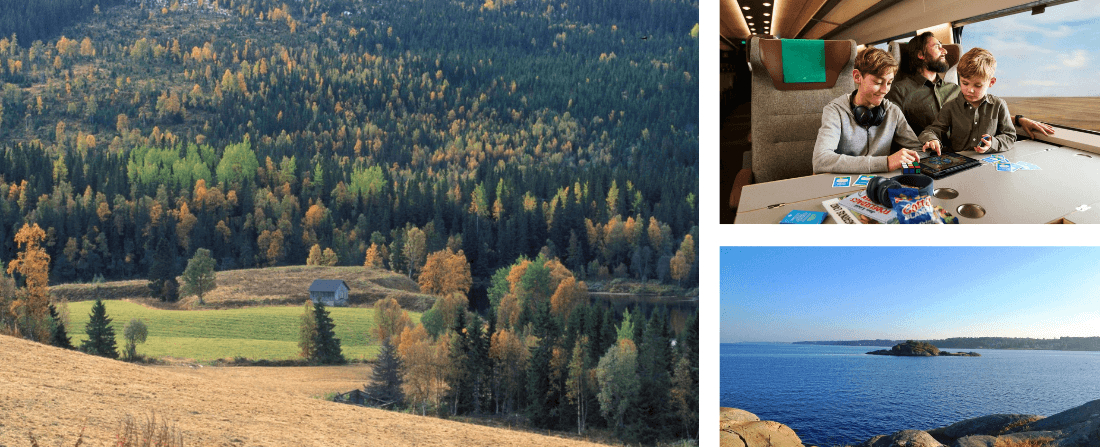 The west of Sweden
If you're a real railway enthusiast, why not consider a trip between Mariestad and Lidköping in West Sweden? Voted Sweden's most beautiful train route by SJ passengers, the journey passes through many picturesque train stations such as Trolmen, which dates back to 1895.
For many, the most memorable views will be those of Kinnekulle, affectionately known by Swedes as det blommande berget (the flowering mountain). This flat-topped mountain on the shores of Lake Vänern provides majestic views for train passengers and hikers alike! It's also home to diverse plant life and rare creatures such as the greater crested newt.
West Sweden is also known for its rugged coastline and pretty seaside towns and villages. The sandy beaches of Halland, such as Skrea and Tylösand, as well as more secluded bays, are fantastic places for children to run wild. Outdoor activities in Halland include cycling, kitesurfing and child-friendly walking trails.
A European break? 
Want to fit in a climate-friendly break abroad as well as a Swedish staycation? You can also get to Copenhagen and Oslo by train or catch the SJ night train to Germany – it goes to Hamburg all year and to Berlin from April to September!
Whether you're dreaming of escaping into nature, adrenaline-pumping adventures, unwinding on the beach, a city break or going abroad, take a look here for tips and inspiration from SJ.
Plan your climate-friendly summer break now and discover Sweden's regions from the comfort of an SJ train
Image of beach huts in Skanör: Birger Lallo/Visit Skåne. All other images: SJ