1. Mi piaci
Let's start at the more casual end of the romance spectrum and work our way up from there.
Mi piaci simply means 'I like you' – while it's often non-romantic, it can definitely also mean 'I fancy you'. Instead of 'like' though, Italian uses the verb 'please' and inverts the subject and object, so in purely grammatical terms the literal English translation of this expression is more like 'you please me'. 
READ ALSO: 11 of the most romantic places in Italy to escape the crowds
Don't let this reversal trip you up: this means ti piaccio doesn't mean 'I like you', but 'you like me' (literally, 'I please you') which would be a pretty presumptuous thing to say to your crush.
2. Mi sono preso/a una cotta per te
Speaking of crushes, there's an easy way to tell someone they're yours: mi sono preso/a una cotta per te means 'I've got a crush on you' (the o/a past participle ending changes depending on whether the person speaking is a man or a woman).
To simplify things a bit, you can just say sono cotto/a per te, turning cotta from a noun into an adjective.
READ ALSO: Five ways to have the perfect romantic weekend in Rome
And if you really want to ramp things up a notch, you can say sono innamorato/a cotto/a di te – I'm mad about you.
3. Sono pazzo/a di te
If you are mad about someone, you can tell them exactly that. Sono pazzo/a di te – 'I'm mad about you' – is one phrase that directly translates between Italian and English. Just like in English, in other contexts pazzo literally means 'crazy/mad'.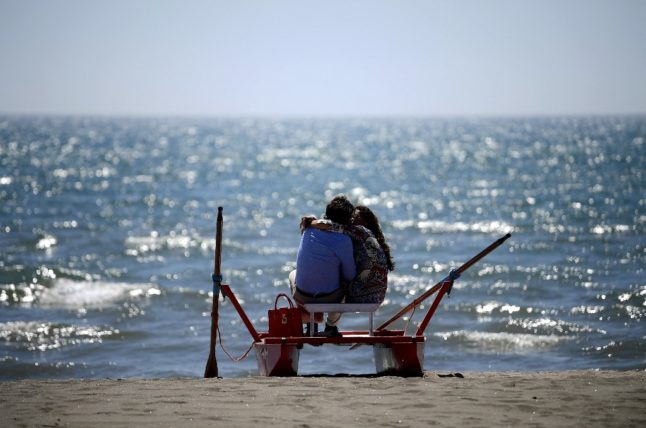 A couple kiss as they enjoy a private beach in Fregene, northwest of Rome. Photo by FILIPPO MONTEFORTE / AFP.
4. Mi sono innamorato/a di te
When you're telling someone you love them, sometimes it's best to be direct about it.
Mi sono innamorato/a di te means 'I've fallen in love with you'/ 'I've fallen for you'; if you want to take things even more back to basics, you can go with a simple ti amo – 'I love you'.
READ ALSO: Three stories of finding love in Italy that will restore your faith in romance
One phrase you want to avoid is ti voglio bene. You may have heard that this means 'I love you' in Italian: it does, but only in a platonic/familial sense. If someone says this to you, it means they love you as a friend, but nothing more.
5. Colpo di fulmine
Literally a 'lightning bolt/strike', a colpo di fulmine is the Italian way to talk about love at first sight: it's as though you were struck by lightning, and haven't been the same since.
This phrase obviously needs to be used in combination with other words – you might say la prima volta che ti ho visto è stato un colpo di fulmine ('the first time I saw you it was love at first sight').
READ ALSO: Did Valentine's Day really originate in Italy?
A less poetic alternative is amore al primo sguardo/amore a prima vista, which translates directly as 'love at first sight'.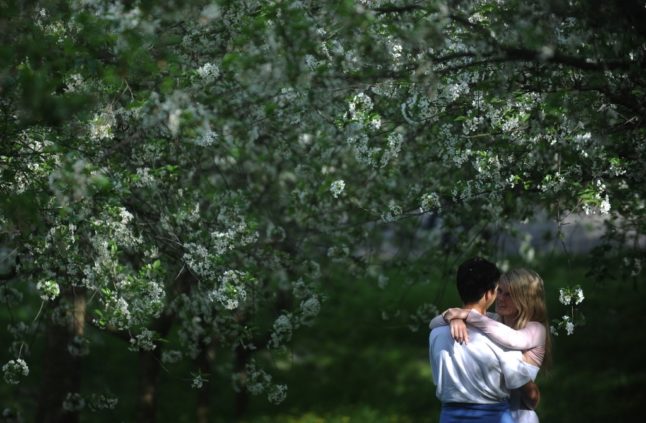 Ti amo is the simplest way to tell someone you love them in Italian. Photo by MICHAL CIZEK / AFP.
6. Sei la mia anima gemella
Buckle up, because we're really heading into intense territory now. A soulmate in Italian is an anima gemella – literally, a 'twin soul'.
You'll want to make sure you're deeply in love – or at least a couple of glasses deep into your Sangiovese – before telling your love interest sei la mia anima gemella: 'you are my soulmate'.
7. Siamo fatti l'uno per l'altra
Really want to turn on the cheese? You could say siamo fatti l'uno per l'altra – an almost direct translation of 'we're made for each other'.
That's if you're a woman talking to a man or vice versa – if you're a man talking to a man, you can say siamo fatti l'uno per l'altro (confusingly, this formula can also be used in a man <–> woman context); for a woman talking to a woman, you'd say siamo fatte l'una per l'altra.
8. Mi sono perso nei tuoi occhi
You'll want to know your audience here: for some this expression might represent the height of Mediterranean romance, while for others, it's really going to up the ick factor.
Mi sono perso/a nei tuoi occhi is 'I'm lost/ I got lost in your eyes'. A pick up line version is mi serve una mappa, mi sono perso nei tuoi occhi ('I need a map, I've got lost in your eyes'), but you've got more dignity than that.
The phrase has inspired at least one Italian love song:
Enjoy using these expressions with your Valentine's – and if you're not currently with anyone, know that your time is coming: Italy makes up for having a day dedicated entirely to couples by making February 15th, La Festa di San Faustino, a celebration of singleness.
READ ALSO: San Faustino: Why February 15th is 'Singles' Day' in Italy