The third day of union-backed demonstrations since January 19th was set to test momentum for the protest movement which has vowed to block Macron's bid to raise the retirement age.
The head of the hardline CGT union, Philippe Martinez, warned that more "numerous, massive and rolling" strikes were coming if the government did not drop the plan.
"If the government keeps on refusing to listen then of course things will have to be ratcheted up," he said, as the demonstration in Paris got underway.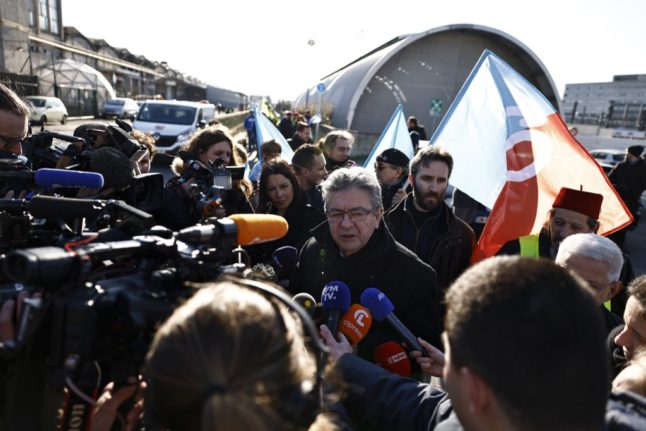 French leftist party La France Insoumise (LFI) leader Jean-Luc Melenchon (C) addresses media ahead of the start of the demonstrations on the third day of nationwide rallies against a deeply unpopular pensions overhaul at Gare de Lyon train station in Paris on February 7, 2023. (Photo by Sameer Al-Doumy / AFP)
Macron put raising the retirement age and encouraging the French to work more at the heart of his re-election campaign last year, but polls estimate that two-thirds of people are against the changes.
Lawmakers began debating the reform, which would see the age for a full pension raised from 62 to 64 and the mandatory number of years of work extended for a full pension, during a stormy session in parliament on Monday.
Mobilisations across the country
But turnout was trending downwards on Tuesday with the hardline CGT union saying almost two million people protested nationwide compared with its estimate of 2.8 million last week.
It said 400,000 people were protesting in Paris compared with 500,000 on January 31st and 400,000 on January 19th.
The interior ministry said police counted 757,000 people protesting across France, also fewer than previously.
French 24-hour news channel BFMTV reported that more than 200 rallies against the pension reform had been organised across the country on Tuesday.
Protesters gather at Place de l'Opera prior to the start of the demonstration (Photo by Sameer Al-Doumy / AFP)
The crowds so far have been the largest anti-government protests since 2010, during pension reform by right-wing former president Nicolas Sarkozy.
There were tensions in the western city of Nantes where protesters clashed with security forces who used tear gas pellets, an AFP photographer said.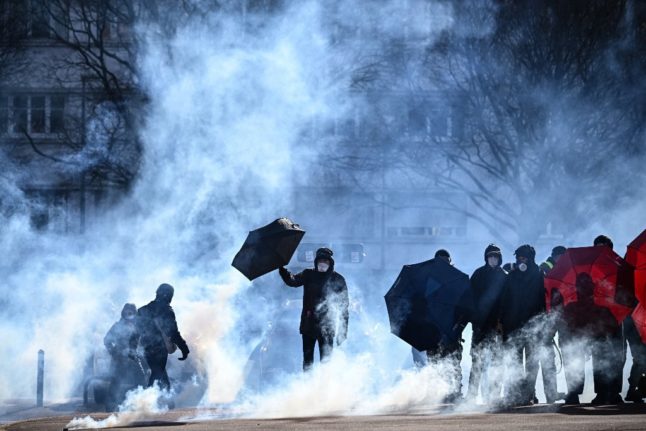 Protesters in Nantes in western France shrouded in teargas face off with law enforcement during a demonstration on the third day of nationwide rallies against pension reform (Photo by LOIC VENANCE / AFP)
In Paris, French daily Le Parisien reported that within an hour of the march beginning, more than 2,200 people had already been subject to police checks.
Hard-left leader Jean-Luc Melenchon said Macron had to take account of the mobilisation on the streets.
"Unless he has become completely authoritarian, you need to be reasonable in a democracy," he said, accusing Macron of trying to start his five-year term with a "show of force".
The impacts of strike action 
Trains and the Paris metro again faced "severe disruptions", while cancellations at Orly airport south of the capital were expected to total one in five.
The overall level of disruption, including in schools, was estimated to be lower than on the previous two days of action.
According to Franceinfo, 25 percent of French national rail workers walked out on Tuesday, in contrast to 36 percent during the previous day of action on January 31st. As for teachers, the French ministry of education estimated to Franceinfo that about 14.17 teachers were out on strike, compared to 25.92 percent on January 31st (based on parts of the country not currently on holiday). 
Nevertheless, around half of long-distance trains were running, the state railway company said.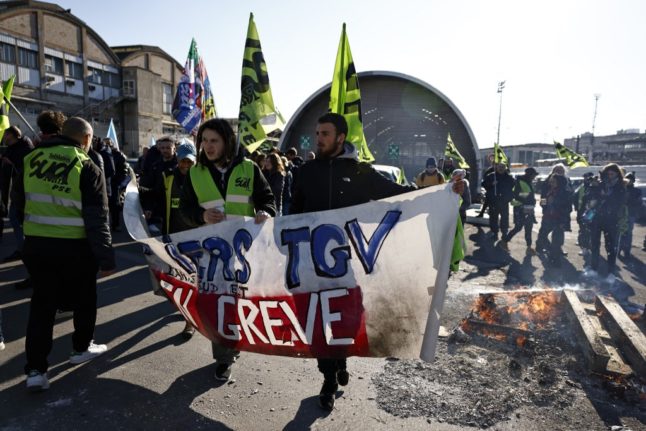 Railway workers hold a banner as they protest against pension reform a general assembly of railway workers on the third day of nationwide rallies organised since the start of the year, against a deeply unpopul at Gare de Lyon train station in Paris on February 7, 2023. (Photo by Sameer Al-Doumy / AFP)
Another day of action is planned by unions on Saturday although with train unions calling for protests rather than strikes, disruption may be less severe. 
"It's ok, it's manageable," Sylvain Magnan, a 23-year-old told AFP at the main station in the city of Marseille on the Mediterranean. "I just took a later train."
Two unions representing rail workers, the CGT and Sud-Rail had also threatened renewable strike action from mid-February onwards. 
"I don't feel that the guys are ready to go on a renewable strike at the moment", train driver and member of the CGT chapter representing rail workers, CGT-Cheminots, Thierry Milbeo, told Le Parisien, referencing his fellow rail workers.
As for oil refineries, approximately one in two TotalEnergies workers were out on strike during the third round of walkouts, the company said, but stocks at petrol stations are sufficiently high to handle any temporary pause in deliveries.
The situation in French parliament
Macron's proposals would bring France closer into line with its European neighbours, most of which have retirement ages of 65 or higher.
But the government has struggled to defend the overhaul as necessary or fair, given that the system is currently in balance and that low-skilled workers are said by many economists to bear the brunt of the changes.
"It's reform or bankruptcy," Public Accounts Minister Gabriel Attal said in parliament on Monday, leading to criticism from opponents that he was exaggerating.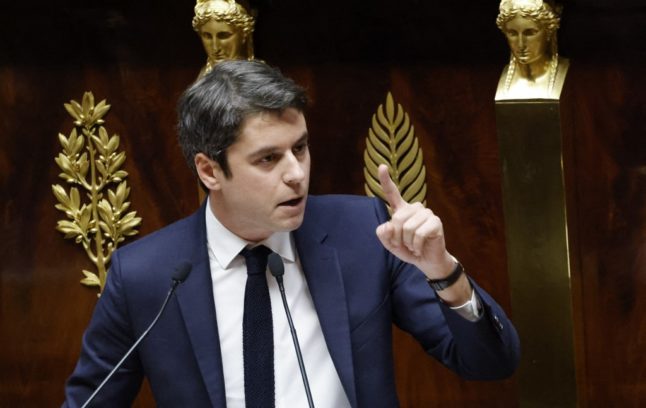 French Junior Minister for Public Accounts Gabriel Attal delivers a speech during the debate regarding the draft law on pension system reform at the National Assembly in Paris, on February 6, 2023. (Photo by Ludovic MARIN / AFP)
Forecasts from the independent Pensions Advisory Council show the pensions system in deficit on average over the next 25 years.
The changes would lead to annual savings of around €18 billion by 2030 — mostly from pushing people to work for longer and abolishing some special retirement schemes.
France's spending on pensions is the third highest among industrialised countries relative to the size of its economy. The country is number one in terms of overall public spending, according to data from the Organisation for Economic Co-operation and Development.
In parliament, the government will need to rely on the right-wing Republicans opposition party to pass the draft legislation, without having to resort to controversial executive powers that dispense with the need for a vote.
Macron's allies are in a minority in the hung National Assembly after elections in June.
Prime Minister Elisabeth Borne on Sunday offered a key concession, saying people who started work aged 20 or 21 would be allowed to leave work a year earlier.
Republicans' head Eric Ciotti has promised his backing, in theory giving the government the numbers it needs to pass the legislation.
But the left-wing opposition group and the far-right nationalist and Eurosceptic party of Marine Le Pen are staunchly opposed and have filed thousands of amendments.
Speaking in parliament on Monday, Le Pen said the government's reform was "unfair" and "dictated by your desire to please the European Commission."