Six years after his first election, Alexander Van der Bellen will be sworn in as Federal President for the second time on Thursday, Austrian media reported.
During an ORF interview, he distanced himself from the far-right leader Herbert Kickl, saying he couldn't be sure he would automatically task the extremist with forming a new government as Austrian chancellor even if Kickl's FBÖ party got more votes in a national election.
Van der Bellen said he would not "try to promote an anti-European party, a party that does not condemn Russia's war against Ukraine, through my actions".
READ ALSO: Austrian presidential elections: What exactly does the president do?
He added that "strictly speaking", the constitution does not state that the party with the most votes must be given the task of forming a government. But it does say that the Federal President appoints the chancellor – and does so in his "most personal decision". 
So far, though, the Federal President in Austria has remained a largely ceremonial position, tasking the party with the most votes with forming a coalition and a government and then appointing the chancellor chosen by this coalition agreement.
At the same time, until now, in the new republic, the far-right has never received more votes than other parties. Currently, Kickl's far-right FPÖ party is leading voting intention polls, which could make for a dramatic situation in 2024 when the national elections come.
How is a chancellor elected in Austria?
Austria is a representative democracy, and leaders are elected indirectly by citizens. Unlike the United States, for example, where citizens vote directly for the person they want to be president, in Austria, the head of government is chosen by the parliament, which is composed after citizens vote for their preferred parties.
The only person elected in a direct vote is the President of Austria, who serves a primarily ceremonial role as head of State, similar to the role of British royals, as a comparison.
READ ALSO: EXPLAINED: How do Austrians elect their chancellor?
So, instead of choosing a chancellor, Austrian citizens who are at least 16 years old on the election date vote for the parties they want to see represented in parliament. In simple terms, they vote for their party of choice; the more votes a party gets, the more seats and power it will have in the National Council.
Once the National Council is formed, the Federal President will invite party leaders to form a government. Traditionally, presidents approach the leader of the party that has received more votes to start conversations with other parties to form a coalition. 
This is where Van der Bellen says another part of his job is to act within his conscience to promote Austrian democracy.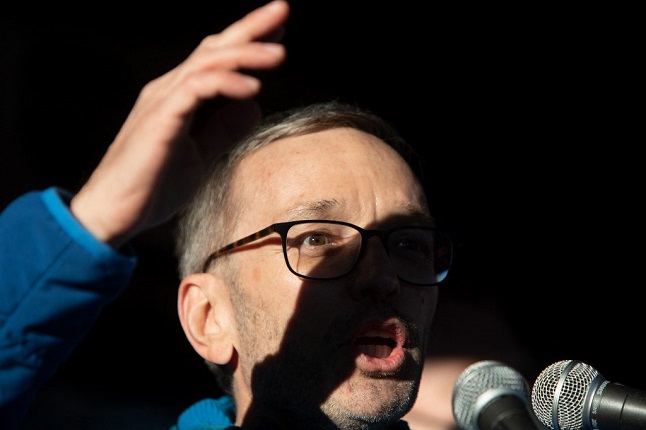 Herbert Kickl, parliamentary group leader of the far-right Freedom Party of Austria (FPOe), speaks during a protest against the official coronavirus restrictions, in Vienna on March 6, 2021. (Photo by ALEX HALADA / AFP)
How could Van der Bellen refuse a far-right government?
In a scenario where the far-right FPÖ gets the most votes but is then closely followed by another party which would also have chances to form a coalition government, Van der Bellen could technically task the second-most voted party with the job to form a government.
So, for example, current voting intention polls put the FPÖ leading with 27 percent, followed by SPÖ with 25 percent, ÖVP with 22 percent and NEOS with 11 percent. Technically, both the FPÖ and SPÖ would need to negotiate with at least two other parties (if not each other) to reach the majority they need to appoint a chancellor, pushing the other party to the opposition.
NATIONALRATSWAHL | Sonntagsfrage OGM/ServusTV

FPÖ: 27% (+5)
SPÖ: 25% (-3)
ÖVP: 22%
NEOS: 11% (+1)
GRÜNE: 10%
Sonstige: 5% (-3)

Änderungen zur letzten Umfrage vom 02. Oktober 2022

Verlauf: https://t.co/roFKebZT5s#nrw #NRWahl pic.twitter.com/UMmNLjMuvr

— Österreich Wählt (@Wahlen_AT) January 23, 2023
In this case, Van der Bellen could task the second most voted party with forming a coalition, arguing that, "in good conscience", he believes the centre-left SPÖ has a better chance to form a government with other parties than the far-right leaders. So, he'd say that giving the job to the SPÖ would be better for Austrian democracy.
Once a coalition is formed and a chancellor's name is appointed, the federal president also must name the person chancellor. That means that, even if Van der Bellen lets the FPÖ form a government, he could technically refuse to nominate its leader, Herbert Kickl, as chancellor. However, this possibility is much less likely, as the president would have to go against a parliamentary majority in denying this appointment.
It all depends on the political scenario ahead of the elections in the Autumn of 2024. 
READ ALSO: Why is support for Austria's far-right FPÖ rising?
The far-right has risen in popularity in recent years as Austria faced the Covid-19 pandemic and then rising inflation and increasing migration numbers. The pandemic seems to be a thing of the past, and inflation has stabilised while there is currently no "migrant crisis" similar to the one Europe saw in 2015-16. 
Even as the FPÖ continues rising on polls, it remains to be seen whether it will be able to maintain the upwards trend (possibly getting so many votes that it would make it difficult for a federal president to deny them chancellery) or it will fizzle away as Austria's economic and political situation stabilises.