The week will be wintry in most of Austria, with daytime temperatures averaging plus 4C, according to the country's meteorologic institute ZAMG. On Friday, the institute, which was recently renamed Geosphere Austria, forecasts even more snow. 
Temperatures should be milder in the east early this week, but the south and southeast of Austria will see some snow again. By Friday, most of the Alpine country will have wintery conditions, including snow showers.
Mild start of the week in Vienna
On Monday, clouds will continue to predominate. It will frequently snow in the south and up to the centre of the country, regionally also heavily. Otherwise, it will hardly snow or rain. In Northern Tyrol and Vorarlberg, even some sun is possible.
The wind will be light to moderate in the southeast, partly brisk to strong from mainly northerly directions. Early temperatures will range from minus 7C to plus 2C, and daily highs will be from minus 1C to plus 6C.
READ ALSO: Heavy snowfall in Carinthia as winter weather returns to Austria
Snow and rain on Tuesday
On Tuesday, the southern side of the Alps and the southeast will still see frequent rain and snowfall, with the snow line mostly fluctuating between 400 and 800 metres above sea level. 
In the rest of Austria, low cloud layers will persist, from which it may occasionally drizzle. Larger sunny windows are only expected for Vorarlberg and Northern Tyrol.
Temperatures will rise from minus 6C to plus 3C in the morning to a maximum of 0C to 5C.
Sunny weather forecast for Wednesday in the mountains

On Wednesday, sunny weather will prevail in the west and the mountains. Otherwise, there will often be patches of high fog. In the day, these will slowly clear from the mountains.
In the morning, it is mostly minus 6C to plus 1C, and the daytime highs reach minus 1C to plus 4C.
READ ALSO: 'No one feels like skiing': Lack of snow hits resorts in Austria and Switzerland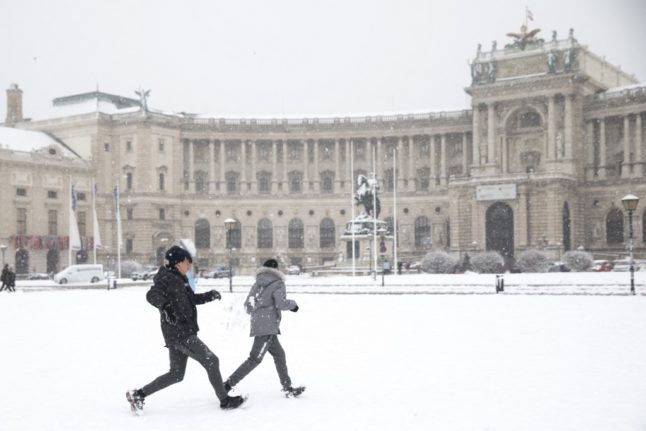 The Hofburg Palace is seen during snowfall in downtown Vienna on January 23, 2023. (Photo by Alex HALADA / AFP)
Snowfall resumes on Thursday

On Thursday, the sun will sometimes shine along with dense clouds on the west and south. Otherwise, it will remain cloudy throughout the day, with light snowfall in the north and east later in the afternoon and evening.
The early temperatures are minus 8C to 0C, and the daytime highs are minus 1C to plus 4C degrees.
From Friday, even more snow
On Friday, clouds will predominate, and intermittent snowfall is also expected in large parts of the country, most along the northern side of the Alps and the east.
Temperatures should be from minus 8C to plus 1 in the morning, but they will rise to minus 2C to plus 3C during the day.