As Italy's general election nears, The Local is publishing a series of articles introducing the key parties and political figures you need to know about.
Here's a quick guide to Italy's far-right Brothers of Italy (Fratelli d'Italia, or FdI), its history, policies, support, and key figures.
Origins
The Brothers of Italy was formed in 2012, but traces its origins right back to the end of World War II.
In 1946, a group of Mussolini's allies – most of whom had been members of the Italian Social Republic, the final incarnation of Mussolini's Italian Fascist regime – founded the neofascist Italian Social Movement (Movimento Sociale Italiano, or MSI).
READ ALSO: Is Brothers of Italy a 'far right' party?
In 1995, MSI merged with more mainstream right-wing elements to become the National Alliance (Alleanza Nazionale, or AN), which publicly distanced itself from fascism. AN was absorbed into Berlusconi's centre-right People of Freedom party in 2009, but in 2012 a breakaway group formed mainly of former AN leaders – including current FdI leader Giorgia Meloni – left to found Brothers of Italy.
These origins, and the fact that Brothers of Italy espouses far-right ideologies while rejecting the label of fascism, means the party is often described by news outlets (including this one) as 'post-fascist'.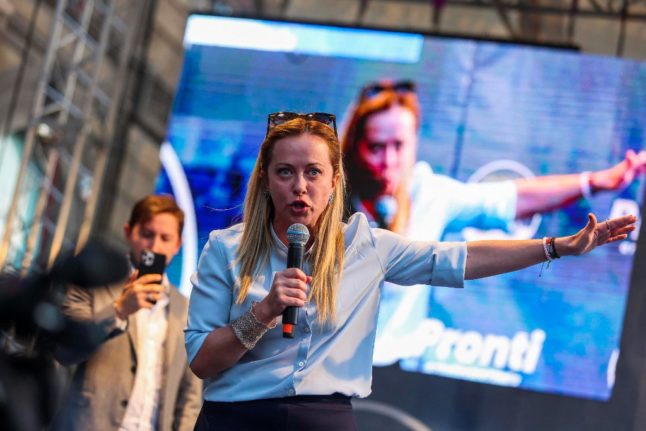 Giorgia Meloni speaking at a campaign rally on September 20th. Her Brothers of Italy party is set to lead the first far-right Italian government in modern history after coming elections. Photo by Igor PETYX / ANSA / AFP
Ideology
Brothers of Italy is anti-immigrant, anti-gay marriage, and pro the traditional family unit, with leader Giorgia Meloni promoting a public image herself as a "woman, mother, Christian" whose mission is to defend "God, country and family".
Many of the party's policies are pro-natalist and aimed at combatting Italy's plummeting birthrate, which Meloni has described as "a true emergency". They include increased child benefits; reducing VAT rates on nappies, baby bottles and formula; free childcare provision, and incentivising employers to hire new mothers.
In the lead up to the 2022 elections, Meloni has posted repeatedly on her social media accounts calling for a "naval blockade" to "put an end to illegal departures to Italy", though it's unclear what form this would take. The party also wants to create offshore "hotspots" to process asylum applications outside the EU.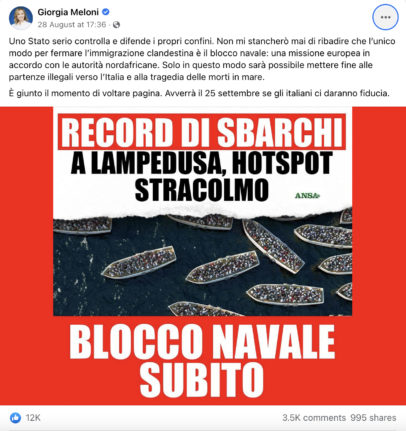 On Russia, the Brothers of Italy is firmly pro-Ukraine. This puts it somewhat at odds with its right-wing coalition partner the League party, whose leader Matteo Salvini recently called on the EU to "rethink" its sanctions on Russia.
Meloni has furiously denied that Brothers of Italy is fascist. This is despite the fact that FdI recently decided to keep the tricolour flame, the original symbol of the MSI, in its logo, and that up until 2017 the logo also featured the letters 'MSI'. A 2021 undercover investigation by the Italian news outlet Fanpage showed footage of (among other things) various FdI leaders trading fascist jokes and Roman salutes.
In a recent multilingual video message directed at the foreign press, Meloni implied that her party is not dissimilar to the UK Conservatives or the US Republican party. In practice, its sympathies tend much further to the right: Meloni has said she "gets on very well" with Hungary's Viktor Orban, and in June spoke at a rally held by the far-right Spanish party Vox.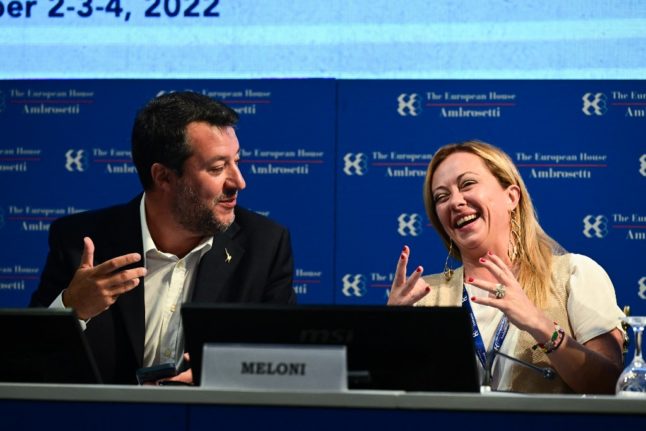 Salvini and Meloni at a press conference in Cernobbio, near Como, northern Italy, on September 4, 2022. (Photo by MIGUEL MEDINA / AFP)
Support
The Brothers of Italy has seen a meteoric rise in popularity over the last four years, going from winning just four percent of the vote in the 2018 elections to a 24 percent approval rating as of September 2022.
That makes it the largest party in Italy in terms of support (vying for first place is the centre-left Democratic Party, PD, polling at around 23 percent as of September 2022).
This is largely down to strategic nous on Meloni's part: her choice to remain in opposition and stay out of Mario Draghi's previous 'unity' government – unlike her coalition partners the League and Forza Italia – seems likely to win it the protest vote.
While 24 percent isn't enough for Brothers of Italy to rule the country on its own, the right-wing coalition with League and Forza Italia is currently projected to scoop over 45 percent of the vote, and the group could win an absolute majority.
Big Names
Giorgia Meloni
Meloni started her career as a teenage activist with the youth wing of MSI. In 2006, as an MP for the National Alliance, she told a reporter in an interview for Corriere Magazine that she had a "serene relationship with fascism" as a chapter in Italy's history, adding, "Mussolini made several mistakes… Historically he has also produced a lot, but this does not save him." Two years later, at 31, she was named minister for youth in Silvio Berlusconi's government.
READ ALSO: Who is Giorgia Meloni, Italy's likely next prime minister?
Meloni has recently sought to distance herself from her earlier comments, saying FdI has "no room for nostalgic attitudes" and asserting in her video message that "the Italian right has handed fascism over to history for decades now". As the leader of Italy's largest party, Meloni is on track to become prime minister following the September 2022 elections.