Berlin's monuments, like the TV tower, are usually lit up at night. But in an effort to save energy – and to set an example to people living in Germany – the city has decided to tone down the lights. 
A lovely thing, this dimmed Television Tower: a small sacrifice, a nightly reminder of the stakes beyond our borders, a sense of solidarity & wir schaffen das #ditisberlin pic.twitter.com/MQCjEN7IBj

— Deborah Cole (@doberah) July 29, 2022
It's all part of the national effort as Germany faces a possible shortage of gas this winter, plus rocketing energy bills that will hit households hard. 
READ ALSO: Berlin monuments fall dark to save energy
The German government confirmed last week that it is bringing in a gas surcharge on customers from October, which will result in household bills rising by hundreds of euros – or even over €1,000 – per year. 
The levy aimed at propping up struggling gas supply companies which are having to replace gas that Russia has failed to deliver. 
READ ALSO: How much extra will households in Germany pay under new gas levy?
Last week, the city of Hanover in Lower Saxony announced it was implementing a huge energy-saving programme. 
The city aims to save at least 15 percent of energy consumption, and has set up a crisis team to deal with a possible gas shortage.
"The situation is unpredictable," said Mayor Belit Onay of the Greens.
As part of the measures, only cold showers will be available in public facilities like swimming pools, sports halls and gyms. 
Furthermore, the city's pools will no longer be heated with gas, and public fountains are being turned off.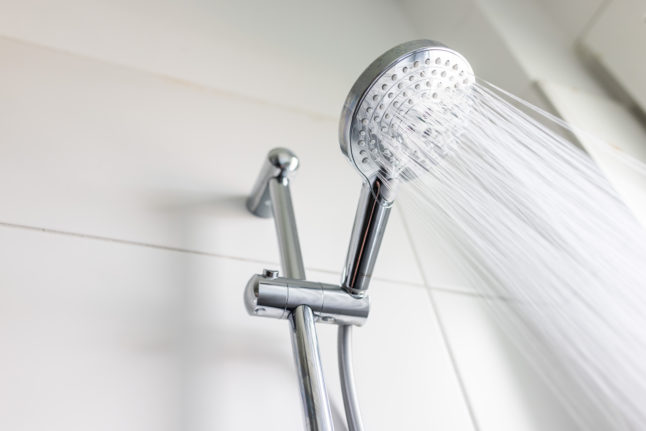 Showers will be cold in public facilities in Hanover. Photo: picture alliance/dpa | Philipp von Ditfurth
And just like Berlin – as well as other cities in Germany – public buildings, museums and other sights will no longer be fully lit up at night. 
"It's about every kilowatt hour and protecting critical infrastructure," said Onay. He pointed out that Kitas (daycare centres), schools, nursing homes and clinics are exempt from the energy saving restrictions.
There are also stricter rules on heating. Public buildings will not have any heating from April to the end of September each year, with room temperatures limited to a maximum of 20C for the rest of the year, although there are some exemptions. In areas such as warehouses, technical rooms, corridors, the maximum will range from 10 to 15C.
The city is also banning portable air conditioners, heaters and radiators, while only cold water will be available for hand washing in public buildings. 
Manual widget for ML (class="ml-manual-widget-container")
"It's no fun. But I hope the city community will go along with it," said Onay. 
READ ALSO: 'Difficult winters ahead': Germany sets out emergency energy saving measures
Lower Saxony's businesses seem to be following suit. In an IHK survey, two-thirds of 500 companies questioned said they foresaw putting in place potential savings of up to 10 percent on gas and electricity.
Other cities have been reacting to the energy crisis, too.
In Leipzig, city bosses have decided on a phased plan with the aim of saving around 15 percent energy. They will reduce room temperatures in public buildings and have already started turning down lights on monuments at night.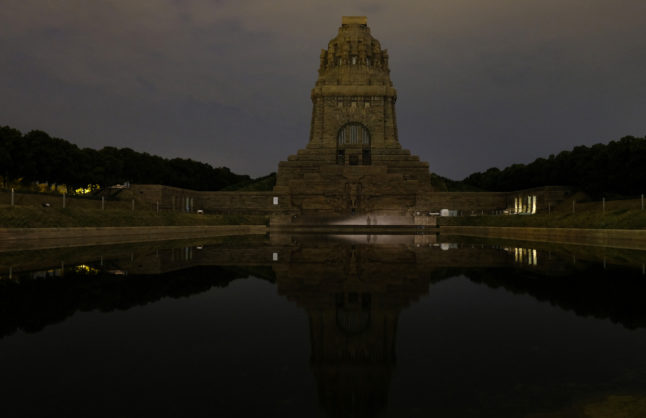 View of the unlit Monument to the Battle of the Nations. Against the background of the looming energy crisis, Leipzig has switched off the lighting of around 240 public buildings and landmarks. Photo: picture alliance/dpa | Sebastian Willnow
In Munich there will be no hot water in district offices, room temperatures in public offices will be reduced to a maximum of 19C, while areas not in use will not be heated at all.
During the holidays, hot water will be turned off in all schools, and the lighting of municipal buildings such as the town hall on Marienplatz will be switched off.
Meanwhile, Nuremberg has temporarily closed three of its four indoor swimming pools during the summer months to save energy.
According to the city's calculations, Nuremberg's indoor and outdoor swimming pools need 9.4 million kilowatt hours of district heating and about 800,000 kilowatt hours of gas per year. By closing the pools for 72 days, NürnbergBad frees up heating energy for 383 households or about 1,500 people in the city, as well as electricity for 789 households or 3,100 people.
In Stuttgart, the water in outdoor pools has been heated only by solar energy since July 1st. A spokesman for the city said this means there is no longer a guaranteed water temperature.
Tübingen is focusing on the massive expansion of renewable energy and the use of heat pumps. According to a spokesperson, lighting and heating are to be reduced to the minimum, too.
Earlier in July, the Bavarian city of Augsburg turned off its fountains, dimmed the facades of public buildings at night and is considering switching off some under-used traffic lights.
READ ALSO: How Germany is saving energy ahead of uncertain winter