The build-up to going on holiday is usually an exciting period. Choosing books to read, prepping streaming devices, checking out restaurants and things to do at your holiday destination – all activities that heighten your anticipation of the fun times ahead.
But there's one aspect of holiday planning that makes us pet owners a little blue – what are we going to do with our furry (or feathery or fishy) friends? 
Denise Baxendall, who lives in southern Spain, has experience of all the possible ways to keep pets safe and happy when she's away. 
"We have two rescue dogs, one of whom is a little bit complicated. She is quite nervous. And it takes her a while to sort of be comfortable with people. And so my main concern is that she is settled and that she's not stressed by us not being there. So for me, kennels are just not suitable.
"They're also very expensive, especially now that some of them call themselves 'pet hotels'. You also hear awful stories about dogs getting very stressed and losing hair and eating their tails and all sorts of horrible things. And then there's kennel cough, which is sometimes unavoidable because there are all these dogs in such close proximity. And even at the best kennels they can't dedicate two or three hours to walking each dog and spend time cuddling them sitting in front of the telly. It's just not possible."
Discover a new way of caring for your furry babies when you go away – and get a 25% discount
Denise Baxendell with her dogs
What about friends and family – why not persuade them to help out?
Denise is wary about using this tactic. "It always causes guilt and tension. Are you impinging on their time? Are you inconveniencing them? And they can often only pop round to feed the animals and, in dogs' case, give them a quick walk to make sure they go to the toilet. The dogs won't get proper walks and won't have any long-term company. And what if your dog is a diabetic for example and needs regular medication? Sadly, it's the same problem with pet walkers – they're in and out of the house in a flash, leaving the animals alone. So this really isn't an option if you're planning to go away for more than a day."
Jenny Newman, who lives in the French Pyrenees, is a house-sitter and pet owner who's been on both sides of the house-sitting fence. "Asking friends and family is okay if it suits both parties. Personally, I don't have anyone to ask who lives anywhere near close enough to me, but even if I did I'm not sure I'd feel happy imposing on their free time."
"There's only one sensible option, really, when you have to leave your pets and that's using a house-sitting service, such as TrustedHousesitters," says Jenny.
Denise agrees. "All the problems and complications I've mentioned about kennels, family and pet walkers, none of those come into play when it comes to house-sitters. The pets get to stay in their own home, they do not have their routines disturbed, they go for long walks, and they get cuddles. And you, as a human, have someone you trust looking after your pet and your home, so you can enjoy your time away!"
Services such as TrustedHousesitters work by matching pet owners with house sitters – who do not charge for their time – to keep your pets safe and happy at home whenever you're away. Both owners and sitters pay an annual fee to be part of the network. For sitters, the arrangement offers the opportunity to travel and see places without paying for accommodation.
Learn more about TrustedHousesitters, the service that ensures your pets are looked after when you're away – and get 25% off!
Those that might be wary of letting a stranger or strangers look after their house need not worry, says Denise.
"If you use a site such as TrustedHousesitters, you know the sitters have been checked and double-checked."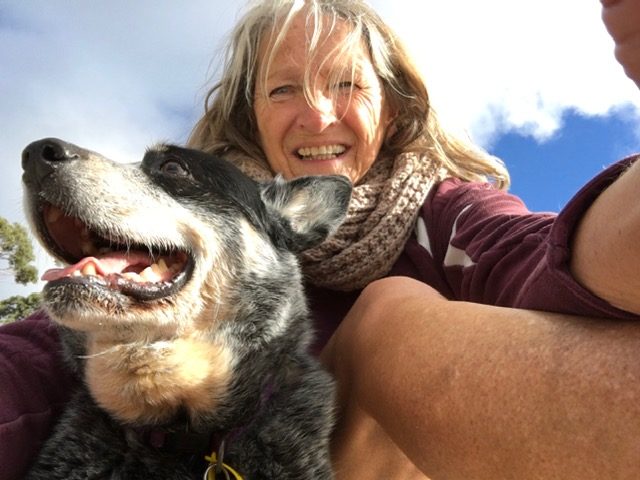 Jenny Newman and one of her dogs
TrustedHousesitters ensure potential sitters are thoroughly ID-checked and vetted, a comprehensive system that is complemented by ratings and reviews left by other owners. Owners and sitters pay an annual fee to use the service and, on certain plans, for extra peace of mind, TrustedHousesitters offer owners and sitters insurance cover against property damage, theft, and sitter accidents, as well as a free 24/7 vet advice line.
"Having been involved on both sides of house-sitting for many years, I know that pets love their owners, but they also very quickly come to love their house-sitters as well," says Jenny. "If they're with an animal lover, they are relaxed and happy and don't miss their owners or get stressed by their absence. Obviously, they're usually delighted to have you home but when I recently returned from being away they seemed to barely notice that I'd not been there and were very happy snuggled up to the sitters! But that's good of course – it means they've been well looked after."
For Denise, the benefits of using a house-sitter service are obvious. "I think it's peace of mind. You know these sitters are who they say they are, that they've been checked out and that you have the ability to look through all their various reviews and ratings on the website. And if you take the insurance options they offer, you have a pretty bulletproof way of getting your pets and your home looked after."
There are other benefits, too, according to Denise. "We have built up relationships with some of our sitters. So we do have people coming back to house-sit multiple times and we have become friends. And that's really lovely."
Jenny sums up the attractions of using a house-sitter. "With a house-sitter, you have somebody that wants to be in your home and wants to look after your pets – they are specifically coming to your house to do that for you. It's the perfect solution to looking after your animal. And you get to totally enjoy your break, knowing your pets and home are being looked after."
TrustedHousesitters is the kind way to look after your pets when you're away – get a 25% discount here