Presented by Stockholm Stad
The ultimate guide to learning Swedish
Many of us assume that Swedish for immigrants (SFI), the free government-provided language course for newcomers to Sweden, is just a single programme, a one-size-fits-all attempt to shoehorn everyone into the same system. But in fact the reality is quite the opposite.
Because what is less well-known about SFI is the sheer scope and breadth of the language courses that it offers.
From profession-specific courses, to courses for job seekers, through to courses aimed at traumatised refugees and those with impaired hearing, the City of Stockholm, via
Vuxenutbildning
(adult education), offers Swedish language courses for most newcomers to Stockholm.  
Those of us who have not found SFI to our liking may simply have been on the wrong course.
SFI also offers 
free counselling ('studie- och yrkesvägledning') with qualified study counsellors
. If you are unsure which precise SFI is for you, you can contact SFI for an assessment on your level of Swedish proficiency. 

Rana Noel, Director of Adult Education in the City of Stockholm, arrived in Sweden 22 years ago. She tells us: "When I first arrived in Sweden I studied SFI and other courses in adult education, and then went on to studying at university. I know from personal experience that making sure you are on the right SFI course can make all the difference. As a foreign university graduate I understand how one's career path in a new country might be challenging at times. That's actually why I became a SYV (study and career counselor) because I wanted to help people arriving in Stockholm, and give them the power to make conscious choices for professions and studies that really shape their future," she says.


"Once you find the right course for you, my tip is to take the studies seriously and combine it with listening to radio, audio books and watching TV and find workplaces that speak as much Swedish as possible. That way, you will be able to develop your language quickly. I used to read children's books in Swedish in addition to my SFI studies, which I found really helpful. And as always when it comes to language learning, have patience with the process - it will all be worth it."


To make sure you find the right course for you, here is our guide to
all the SFI courses available
to those new to Stockholm. And even if you're not a newcomer, but someone who's struggled with learning Swedish in the past, please check here – you might not yet have found the most appropriate course for you.
Swedish for immigrants - SFI
This is the basic Swedish language course most of us have tried. It's aimed at the development of a functional second language, and to give you the tools to actively participate in daily Swedish life, society and work. All immigrants from age 16 without basic skills in the Swedish language, who are registered in the municipality, are entitled to participate in SFI. There are three study paths: path 1, for those with no, or limited, education from their country, path 2, for those who have completed a basic education, and path 3 for those who have completed the equivalent of an upper secondary education. When you successfully finish each level you receive a certificate.
Perfect for: Anyone who needs basic Swedish.
Learn more about all the Swedish language courses offered by Vuxenutbildning Stockholm
Intensive Swedish - distance/classroom learning
This new, intensive course offered by the City of Stockholm, primarily aimed at graduates, has been designed to help you quickly attain Swedish proficiency in reading, writing, speaking and listening. This course, which is available both remotely and in a classroom, uses films, exercises and a lot of interaction and communication, is designed to help highly-educated professionals push themselves – with plenty of help from their teachers and classmates. Students come from around the world, including across Europe, the Middle East, North America, and South America. To apply, you need to be used to studying at a high pace.
Perfect for: Those who need to learn Swedish fast!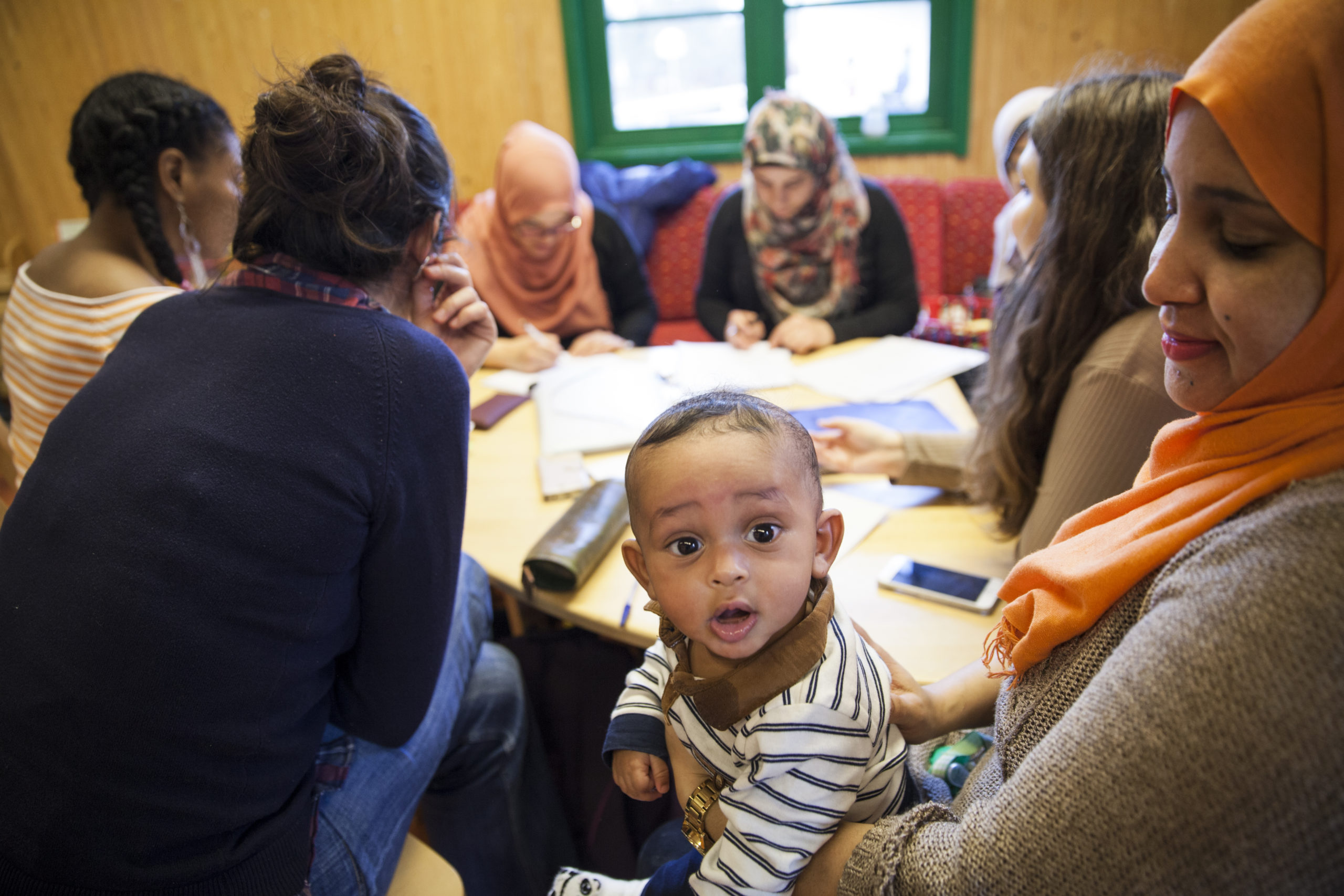 Yes, there is even an SFI class for new parents
Swedish for trained professionals – SFX
If you have a vocational qualification from your native country, there may be an SFI course specialising in your profession, to enable you to quickly find work in Sweden within your chosen profession. Professions covered include programmers, bakers, medical staff, bus drivers, teachers, lawyers, truckers and architects. The intensive Swedish courses, complete with work-focused professional vocabulary, are outperforming more general courses, with the overall level of employment or continued study around 25 percent higher for those studying SFX than those who completed SFI. Available in Stockholm municipality.
Perfect for: Professionals who need to get up to speed in Swedish really quickly to land a job.
Combination educations - SFI and SVA combo
With this course, you learn Swedish at the same time as you study for a vocational education (SVA) at upper secondary school level. You also get practical experience on the job and have good chances of finding employment once you've qualified. A combination education is full-time – you study 30 hours a week at school and you also need to spend time on schoolwork at home every week. Careers covered include care and teaching assistants, chefs and construction workers.
Perfect for: Newcomers without Swedish or a trade or established career.

There are many SFI courses available to non-Swedish speakers. Find the one best suited to you here
SFI for parental leave
Mothers and fathers on parental leave can study SFI together with other parents. SFI for parental leave (SFF) is open to those on SFI study paths 1 and 2. At SFF, you study Swedish in a small group together with a teacher and other parents on leave. Topics included on this course include, general parenting issues, health and children's development, Swedish preschools etc.
Perfect for: Newcomer mums and dads!

Adapted learning SFI
There are different types of Swedish tuition for those who need special support. If, for example, you have a neuropsychiatric disability such as ADHD, Tourette's syndrome, some form of mental illness or dyslexia, you can receive adapted teaching based on your needs. You can also receive adapted teaching based on your needs, if you have learning loss, visual impairment, impaired mobility or suffer from PTSD or migration-related stress or trauma. Please note that you do not need a diagnosis to be entitled to support. 
Perfect for: Newcomers who need adapted learning to help overcome physical or neuropsychiatric issues.
There you have it. Proof that there is indeed a Swedish language course for pretty much every newcomer to Stockholm, no matter what your background and no matter what your circumstances. 

Finding the right course can really make all the difference as to whether or not you complete the course, and it can also be a great way to network and make new friends.

Learning Swedish can be a real door into Swedish society, and The City of Stockholm wants to open that door for you.
This content was paid for by an advertiser and produced by The Local's Creative Studio.
See Also