When Lola Montez arrived in Munich in 1846, quiet life in Bavaria was usurped by mass social unrest, student uprisings and a royal love scandal.
Over 150 years ago, audiences at Munich's national theatre were treated to an unforgettable performance. A Spanish dancer by the name of Lola Montez tantalized onlookers as she performed her Spinnentanz (spider dance). 
The dance involved her lifting up one brightly coloured skirt after another, as if she were looking for spiders. She would then shed a layer of dress and kick the imaginary spiders to death. At the end of the show Montez was dressed only in a flesh-coloured top which ended at her hips.
One of the onlookers at this provocative spectacle was the ageing King of Bavaria, King Ludwig I. A lover of all things Spanish, Ludwig instantly fell for this seductive southern beauty.
The unfortunate monarch had no idea what he was getting himself into, though. Montez was no Spaniard. She was an Irish woman who, according to one famous lover, was fatal to any man who came too close.
Before he knew it, Ludwig was fighting off rebellion on the streets of Munich and his council of ministers were threatening to strip him of his powers.
Montez's story is largely forgotten now. But the historians are in agreement: this Irish trickster was one of the most important figures in Bavarian 19th century history.
Early life
In 1821, Eliza Gilbert was born in Ireland to a captain of the British army and the daughter of a local politician.
Her childhood was filled with upheaval. When she was still an infant her family moved to India, but her father contracted cholera and died shortly after their arrival. After her mother remarried, Eliza was sent to live with her step family in Scotland. But the mischievous little girl failed to settle and was packed off to boarding school where she learned two skills that would serve her well in life: French and dancing. 
In her late teens, faced with an arranged marriage to an older man, she eloped to India with a British officer. But the union was a disaster. The couple soon sailed back for England where the young officer promptly sought a divorce claiming adultery. Gilbert was disowned by her family and her reputation was left in tatters.
The road to Bavaria
There were few greater sins than adultery in Victorian Britain. For Gilbert, it was time to turn a new leaf. She travelled to Madrid and Seville, where she trained in Spanish dance and changed her name to Maria de los Dolores Porrys y Montez.
Back in London, she started on a promising dance career before men in the audience recognized her and she was forced to flee back to the continent.
Montez travelled and danced her way around Europe and its stages. During stints in Berlin, Dresden, Warsaw and Paris, she captured the attention – and hearts – of men as she went. Her lovers included the composer Franz Liszt, while Alexandre Dumas was another admirer.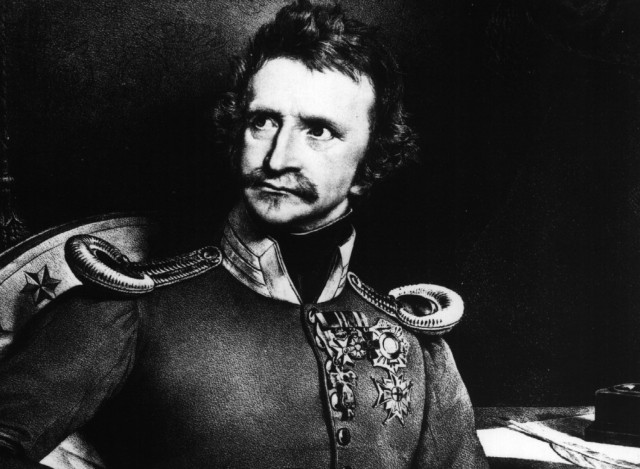 King Ludwig I. Photo: DPA
It was October 1846 when Montez arrived in Munich. After just three days, she had won herself an audience with the Bavarian King, 60-year-old Ludwig I. With her new Spanish name and Spanish-inspired Spinnentanz, Montez convinced the monarch she was an Iberian noblewoman.
Legend has it that Ludwig asked her at their first meeting whether the bust under her corset was "nature or art". Her response was to cut her corset open so that he could see for himself. 
The king was immediately besotted. He wrote her poems and letters in what he thought was her native language. He showered her with presents and gifts and built her an opulent villa in the Schwabing district. Ludwig's expenditures on his mistress were so exorbitant that they exceeded the costs of building the Feldherrnhalle – an iconic build on Odeonsplatz.
Lola began to use her influence on the king to interfere in Bavarian politics, pushing for liberal reforms. Meanwhile, she walked the streets of Munich with a huge dog at her side, a cigar in one hand and a riding whip in the other.
This aggressive posture probably wasn't unwarranted. Ludwig's relationship to a woman who didn't belong to the Bavarian aristocracy had caused a scandal in the city. But he refused to back down. His solution was simple: make her Bavarian.
When his interior minister refused to sign off on the proposal, Ludwig sacked him. When the replacement minister acquiesced but refused to socialize with the new Countess Marie von Landsfeld, he too was shown the door.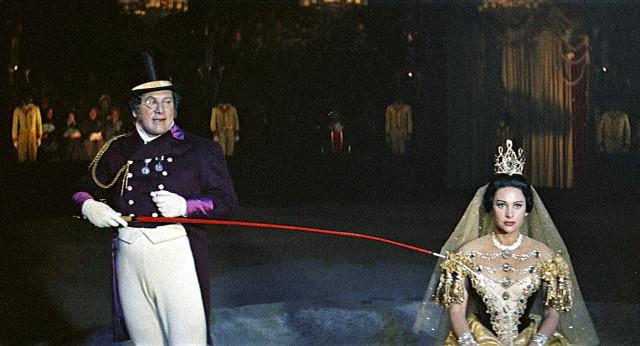 A scene from Max Ophüls' 1955 film "Lola Montès". Photo: DPA – Bildfunk/ARD DEGETO
Causing a stir
The council of ministers weren't Montez's only enemies, though. Upon her arrival, the Jesuits took an instant dislike to her, suspecting she was an "emissary" of the English free masons. Rumours soon spread in the city about the new countess' less than Spanish past.
As tensions rose, Montez hired a guard comprised of university students from the fencing fraternity house Palatia. The group of students guarding Montez called themselves the "Alemannia".
Other fraternities responded with outrage and engaged in often violent protest against the Alemannia. It then came to light that Montez was having an affair with the head of the house, Elias Peissner. Palatia house expelled Peissner, along with a few other students. Those who still sided with Montez were tarnished with the label "Lolamannen". 
In January 1848, – a year in which revolt was in the air throughout Germany – students at Munich University walked out of a lecture theatre when members of Alemannia showed up, as a symbol of their disapproval of Lola Montez. Royal attempts to soothe over tensions ended in failure; in February a riot broke out and those who supported Montez were trapped in a coffee house by other students.
When King Ludwig found out about the Munich riot, he ordered a temporary closure of the university, saying that all students should leave the city within three days. Students, landlords, businessmen and barkeepers protested as a result.
Eventually the king was forced to revoke his order and expel his beloved Lola from Bavaria. The following month though she returned to Munich in spite of her ban and naturally there was renewed unrest. Montez was banished again, but Ludwig had played all the cards left in his hand. He was given the choice: abdicate or be turned into king without any power. He handed the throne to his eldest son Maximilian and saved the family from being turned into a constitutional monarchy.
Life after Bavaria 
But Lola Montez's journey didn't stop when she left Bavaria. She kept travelling and remarried. She passed through Switzerland, London and Spain and ended up in America, where she performed her Spinnentanz on Broadway.
After a while in the US, Montez set sail for Australia and hired a young actor called Noel Follin to be her manager. Drama followed Montez to Australia too; she narrowly escaped arrest there for a debt she owed which is believed to involve her undressing and attempting to seduce officers.
Eight months later, Montez set sail for San Francisco with Follin, but he was lost overboard during the journey and no official investigation was ever carried out. 
After living an unusual life for her time, a life which some might call dangerous and glamorous, Lola Montez died in the US in January 1861 at the age of 42 when she died of (what else?) syphilis.