After the severe onset of winter in many regions of Germany over the weekend, extreme weather is expected to continue on Monday.
On Sunday night, the German Weather Service (DWD) warned of heavy snowfall with around 10 to 25 centimetres of fresh snow expected in the first half of the day in the centre of Germany.
Northeast Hesse, Thuringia, Saxony and Saxony-Anhalt are particularly affected. A warning for heavy snow was issued on Monday for these areas. Other states are affected by very low temperatures, ice and snowfall too, including Berlin and Brandenburg.
As this tweet by DWD shows, temperatures dropped sharply overnight, with the lowest recorded at the Brocken. in the Harz mountain range in Saxony-Anhalt, with -16C.
Ziemlich kalt war's letzte Nacht; im Norden und der Mitte verbreitet Minima unter -5 Grad, auf dem Brocken -16 Grad. Die Schneehöhen zeigen deutlich den (Unwetter-)Streifen der letzten Tage (Emsland & Münsterland bis nach Sachsen). Und es geht mit Schnee und Frost weiter… /V pic.twitter.com/ek1HZvhGWA

— DWD (@DWD_presse) February 8, 2021
Federal Transport Minister Andreas Scheuer, of the conservatives, advised people in Germany affected by the snow chaos to stay at home at the beginning of the week.
READ ALSO: Weird weather – temperatures between -7C and up to 20C expected in Germany
Drivers stuck in snow
The snow has resulted in trucks and cars becoming stuck in traffic jams on Germany's Autobahn network for several hours, while gritting vehicles cannot get through.
On some stretches of road, especially in the centre and east of the country, there's been chaos with huge traffic jams.
On Monday morning lorries were stuck on the Autobahn after after heavy snowfall, including in the north and east of Hesse on the A4 and A7.
"The situation is catastrophic," said a police spokesman in Fulda in the morning. In some places, trucks and cars were stuck in traffic jams for over six hours.
Authorities have warned people against travel in affected regions, and have urged lorry drivers not to drive on the Autobahn.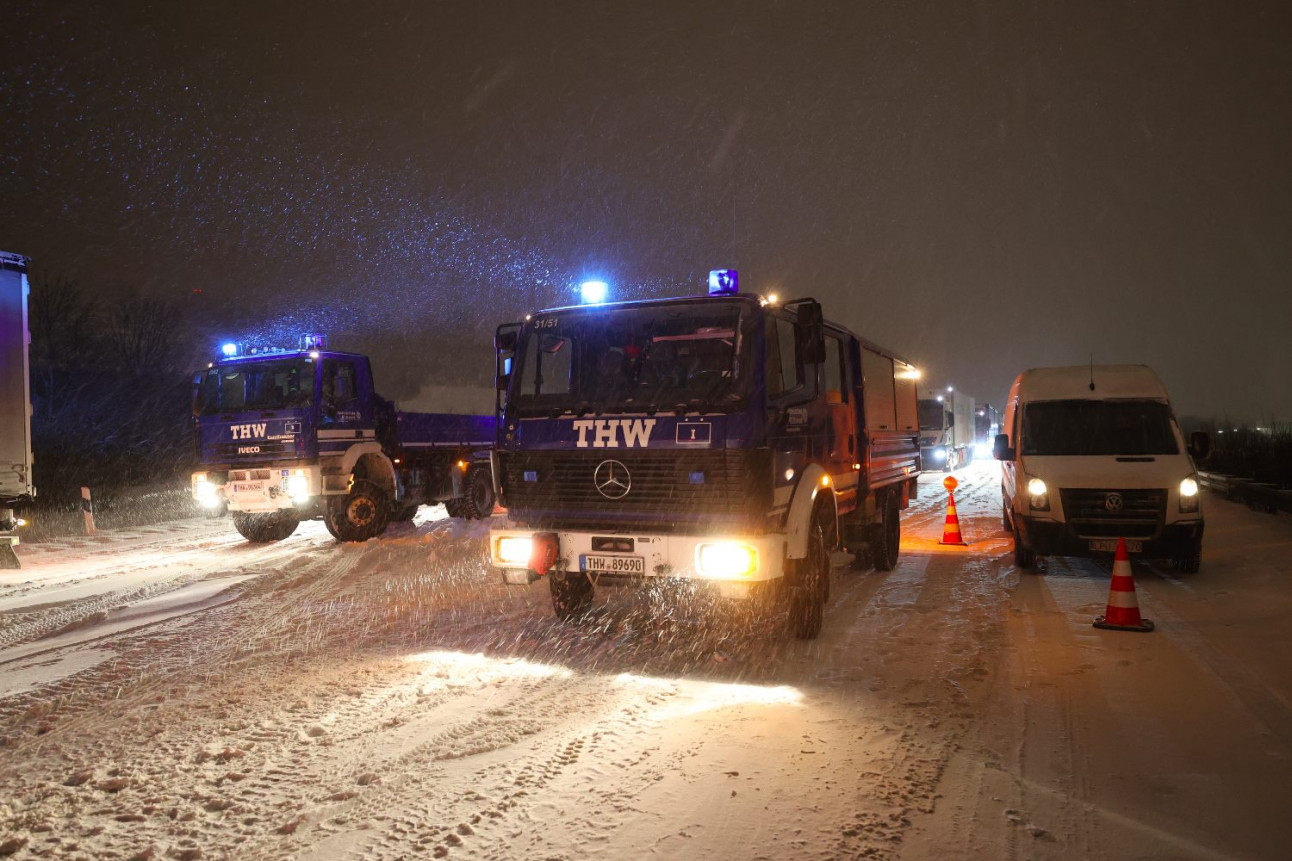 Lorries stuck near Gera on Monday. Photo: DPA
Disrupted rail services and cancellations
"Snow and ice will continue to affect local and long-distance DB traffic in large parts of the country on Monday," rail operator Deutsche Bahn said. Travellers have been asked to "use DB's numerous information channels to find out about their connection before setting off".
DB offered refunds for people affected by cancelled services, or a chance to rebook the journey.
A heavy blizzard caused traffic chaos in parts of Germany on Sunday. In some places, more than 30cm of snow fell, in addition to drifts. The police and fire brigade were called out several times.
There were major restrictions on regional and long-distance rail services, while a Bundesliga football match had to be cancelled.

The DWD had last week warned of a winter weekend of extremes, with the lower half of the country seeing mild temperatures, and the northern half experiencing extreme winter weather.
On Saturday it remained fairly calm. As a precaution, all long-distance trains between Hamburg and Kiel, Hamburg and Lübeck and between Hamburg and Westerland were cancelled over the weekend
READ ALSO: What happened in Germany's catostrophic winter of 78/79?
On Sunday, however, weather chaos set in. Here's a rundown of some major incidents across the country so far:
– The police had to close icy roads and there were hundreds of accidents. Trains were cancelled due to frozen overhead lines. As we mentioned above, cars and trucks have been getting stuck in deep snowdrifts.
– A train with about 25 passengers was stranded at the Hundertwasser railway station in Uelzen, Lower Saxony. Rescue workers from the German Red Cross (DRK) arrived late on Sunday to provide the passengers with blankets and hot drinks. The passengers were not able to continue their journey until Monday morning.
– In Thuringia, a family of three got their car stuck in the snow. According to police, the vehicle came to a standstill near Sömmerda on Sunday evening. The family tried for hours to free the car from the snow and finally dialled the emergency services around midnight. The parents and their seven-year-old daughter had to be rescued by the fire brigade and were taken to an emergency shelter.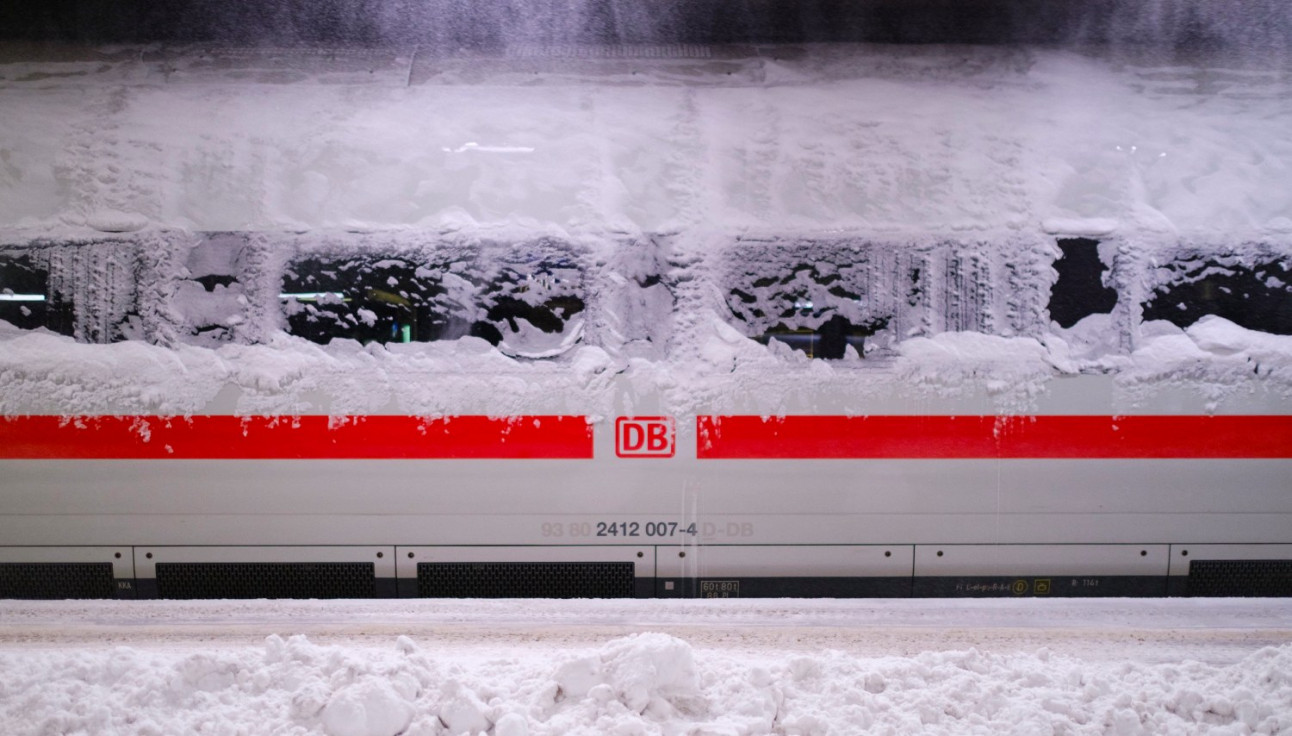 An icy train in Hanover, Lower Saxony. Photo: DPA
– In Braunschweig, the fire brigade recovered a tram carriage that had fallen off the rails due to snow. The wagon belonged to a special vehicle with a snow plough, which was being used to try and get rid of the masses of snow, a fire brigade spokesperson said. Rescue workers used a truck-mounted crane to lift the wagon, which weighed several tonnes, back onto the track. According to the fire brigade, snowdrifts up to 70 cm high were piling up in the Braunschweig area.
– In Duisburg, the fire brigade had to be called in because five houses directly on the Rhine were cut off from the outside world by the snowdrifts.
– Several cities in Hesse completely suspended bus services, including in Kassel and Marburg an der Lahn.
– In Berlin there are restrictions on the Autobahn network, with people told not to drive faster than 60km/h. Extremely slippery conditions are to be expected on the capital's roads.
What can we expect from the weather this week?
A low pressure area dubbed "Tristan" coming over central Europe and the central Mediterranean, together with high pressure area "Gisela" from Scandinavia, will bring further icy air to Germany this week.
READ ALSO: Why Germany is facing extreme winter weather this month
"After the snowy and windy weekend, the big cold snap is now coming at us from the east," said meteorologist Simon Trippler of the DWD on Sunday.
Snow is still to be expected, although it will not fall as heavily as at the weekend, he said. On Tuesday, the snowfall will mostly recede, except on the coast. Low temperatures are expected for the rest of the week.