Spain is gambling that the third wave of coronavirus can be beaten without bringing in another tough lockdown which will further damage the economy.
It is bucking the trend of European governments like Britain which have confined their populations to their homes once again as contagion rates rise.
Spain's coalition government has refused to allow 15 of the 17 regions to bring the curfew forward from 10pm to 8pm. Other regions wanted to impose household lockdowns, which were also denied.
Yet infection rates have tripled and hospital admissions doubled in the past three weeks.
On the RTVE television news this morning, a doctor at the Virgen de la Salud Hospital in Toledo, in Castilla la Mancha, said: "We are cannot take any more patients. The intensive care unit and the rest of the hospital is overwhelmed."
Spain reported a record 41,576 new cases of COVID-19 on Wednesday and the cumulative incidence rate of reported cases of COVID-19 per 100 000 population over the last 14 days has soared to 736.23.
The number of reported daily cases in Spain has now over taken that of the United Kingdom. Yet Britain is under a tough home lockdown.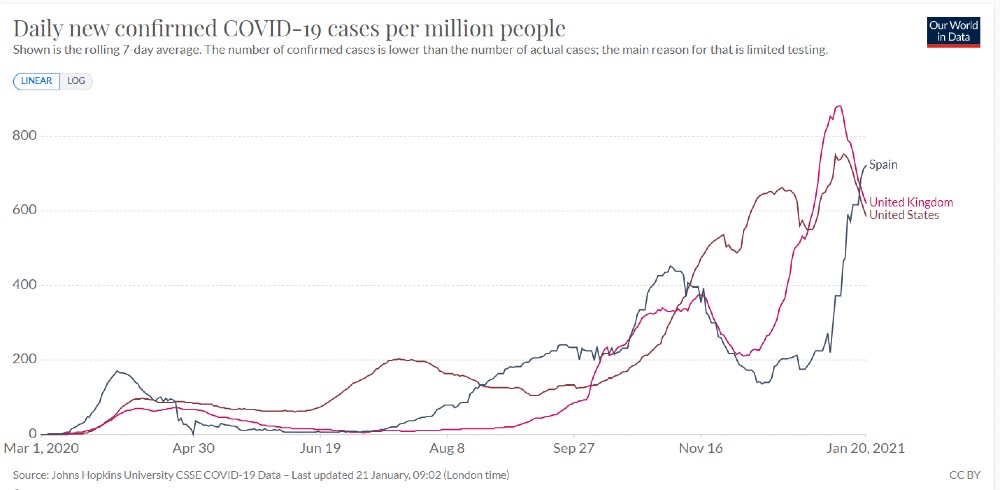 So, can Spain's gamble pay off? 
Salvador Illa, the Spanish health minister, remains confident.
"Spain defeated the second wave and will defeat the third wave with the same measures," he said.
However, health experts that I have spoken to say this confidence is misplaced.
Rafael Bengoa, a former director of the World Health Organisation health systems director who is now the co-director of the Institute for Health and Strategy in Bilbao, believes that it is impossible to say the third wave has been conquered if cumulative contagion rates are still soaring.
"I think they believe they will bend the curve (of contagions) because they say they beat the second wave. One hasn't beaten a wave if you are still (over) 200 (cases per 100,000)," he said.
"They decided to allow a lax family Christmas (like Ireland) and we are seeing the result of that now."
Professor Bengoa believes the government's strategy may damage the economy more than if it had enforced a strict home lockdown just after Christmas.
"This wave will be controlled little by little with the (current) restrictions but it will come down very, very slowly meaning the economy will be worse hit than if we had done a severe lockdown before," he said.
The left-wing government's strategy of allowing its 17 regions to decide local restrictions is rooted in political priorities, analysts believe.
Keen to keep the separatist Catalan regional authorities and Basque nationalists onside, Spanish prime minister Pedro Sanchez handed power to the regions when Spain came out of lockdown last summer.
Spain is currently in a state of emergency which is expected to last until May and which implies a raft of restrictions on daily life.
However, only the central government has the power to impose a full home lockdown.
No doubt, with the Spanish economy still in dire straits, the government does not want to put the eventual recovery in more jeopardy by sending the population home.
The furlough scheme has been extended this week until May and business sources I have spoken to suggest it will carry on until the end of the year or beyond.
Against this background is the question of what happens after furlough ends.
Many business owners I have spoken to have predicted that there will be a raft of bankruptcies because of the government's edict that companies must keep staff on for at least six months post furlough.
They say this will be unsustainable for companies which have made little money during the pandemic.
"We have had to borrow just to keep afloat during the furlough scheme so when that comes to an end we will unfortunately not have the money to keep all our staff on, much as we would like to," one restaurant owner told me.
"If we are forced to employ people we cannot afford for six months this will not be possible. Like many other businesses we will have to go bankrupt."
So, Mr Sanchez – like leaders the world over – is no doubt weighing up a difficult choice as his government continues to refuse to impose another draconian lockdown.
Should he put the economy or public health first? Time will tell.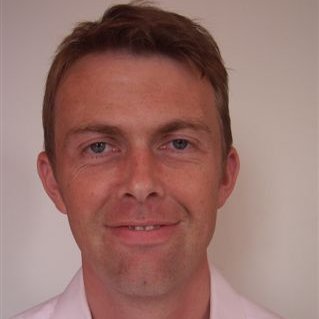 Graham Keeley is a Spain-based freelance journalist who covered the country for The Times from 2008 to 2019. Follow him on Twitter @grahamkeeley .
READ MORE: