Deputy health chief, Antonio Zapatero announced on Friday that new confinement measures would come into force in a further 47 basic healthcare zones and 19 municipalities across the region from Monday.
Authorities also recommended that social gatherings within private homes be limited to those within one household only, although they are seeking legal measures to make it mandatory and called for people to wear facemasks "at all times".
"We must not get together at home with people from other households," said Antonio Zapatero, the deputy chief of Public Health in the Madrid region.
The measures will come into force at midnight on Sunday night and last for at least two weeks.
? Nuevas medidas frente al COVID-19:

? Restricción de movilidad nocturna desde las 23h hasta las 06h.

? Se adelanta el cierre de la hostelería a las 22h.

? Recomendamos el uso permanente de la mascarilla y las reuniones en domicilios sólo de convivientes. pic.twitter.com/1cOdWPuhUx

— Comunidad de Madrid (@ComunidadMadrid) January 15, 2021
The number of daily new infections has soared across Madrid with the cumulative incidence rate over a 14 day period reaching 636 cases per 100,000 people from 390 cases in just two weeks,
This is above Spain's average which has now risen to  523 cases per 100,000 people, health ministry data showed on Thursday, just short of the record high of 529 cases per 100,000 people recorded in November.
The Health Ministry registered 35,878 new infections overnight on Thursday while the death toll from the virus rose by 201 to the official count of 53,079.
Data shows that across Madrid 90 percent of basic healthcare zones (263 out of 285) have a cumulative incidence rate above the critical danger threshold of 400 cases per 100,000 population.
Click on the interactive map below and hover over the area you want to check and a box will appear with all the latest epidemiological information of each Basic Healthcare Zone within Madrid.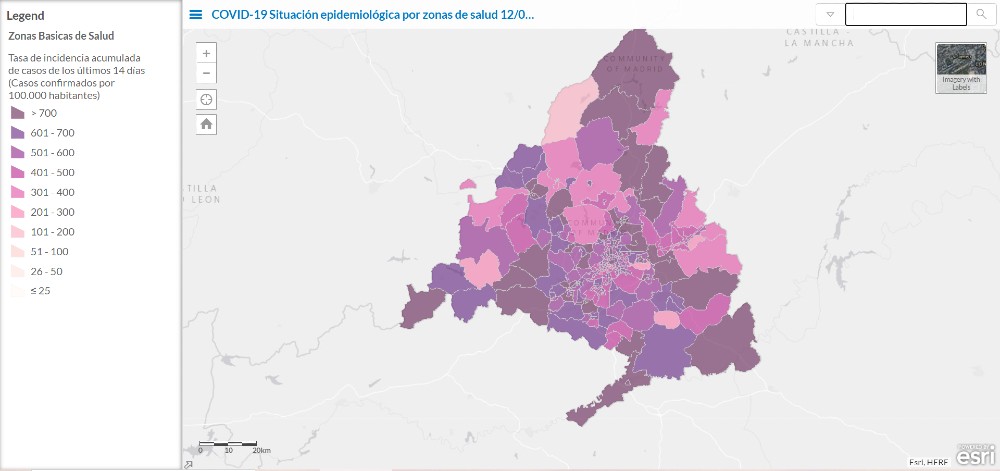 However, rather than force perimetral confinements on them all authorities have now changed the criteria to isolate only those with an incident rate above the Madrid average when combined with limitations of each healthzone.
To discover which areas are confined click on the map below: 
What are the restrictions? 
If you live within one of the restricted "basic health zones"  then you will as of Monday only be allowed to leave the zone to go to work, seek medical care or take their children to school or because of a "force majuere".
All bars and restaurants will have to reduce their capacity by 50 percent, children's playgrounds will be closed.
Residents of the areas affected will be allowed to move around freely inside their zone but no one from outside will be allowed in unless they have justified cause. 
Permits
People who need to exit or enter a restricted zone must carry a form which they can download from the internet and fill out in order to justify their trip. These must be carried at all times and shown if required when stopped by police at the checkpoints.
They will have to fill out with ID number, address, place of work and reason for movement and must be signed by one's employer. 
They can be downloaded HERE.
READ ALSO: