Italy's health data on Friday showed the coronavirus Rt number (reproduction rate) had risen above 1 for the first time in six weeks, further cementing the government's fears that a third wave of the coronavirus is on its way.
READ ALSO: How will Italy's coronavirus rules change under the new emergency decree?
Hopes in early December that the country could begin to reopen in January have now been dashed, and health minister Roberto Speranza on Wednesday confirmed the extension of many current restrictions from January 15th.
Speranza also confirmed that the government plans to extend the stato di emergenza to April 30th.
"This week there has been a general deterioration in the epidemiological situation in Italy," Speranza told parliament's lower house, stating that the epidemic is "in a phase of expansion again" as he outlined plans for the next emergency decree.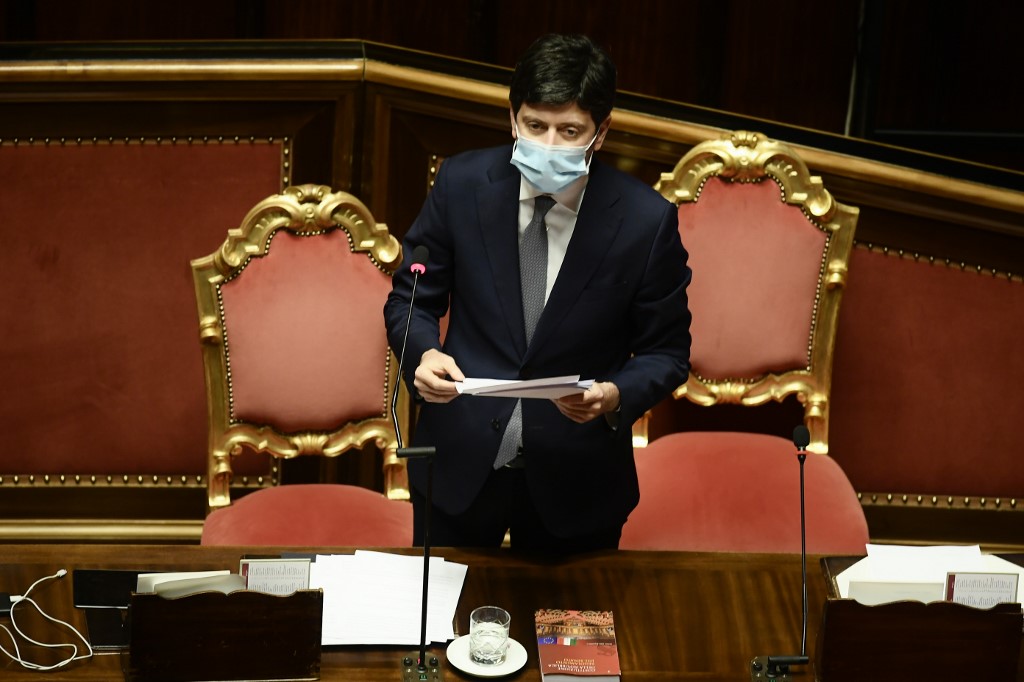 Italian health minister Roberto Speranza announcing the extension to parliament. Photo: AFP
The state of emergency declaration allows Italian officials to bypass much of the bureaucracy that often slows down decision-making.Italy's state of emergency does not determine the emergency rules and restrictions and it's not the same thing as an emergency decree.
It gives greater powers to both the national government and to regional authorities, and allows the Prime Minister to introduce, change, and revoke rules quickly via emergency decrees.
The current state of alarm is due to end on January 31st, by when the state of emergency will have been in place for one year.
Italy first declared the state of emergency in late January 2020 after the first two cases of Covid-19 were detected in the country, in two Chinese tourists in Rome.
Italian law states that the duration of a national state of emergency cannot exceed 12 months and can be extended for no more than a further 12 months.
But the 12-month extension period starts with the first extension, which began on July 31st 2020.
This suggests that the state of emergency will end at the very latest on July 31st 2021.
There are high hopes that Italy wil have made good progress with its vaccination campaign by that point.
As of January 14th, the country has vaccinated almost 900,000 people.
Italy is prioritising medical workers and elderly care home residents, and the vaccine is not yet available to the general public.
Since the start of the pandemic Italy has reported 2.1 million infections and more than 80,000 deaths in total from Covid-19.