Pandemic law
One of the biggest changes was the introduction of this wide-ranging law, which came into effect on January 10th and gives the government powers to introduce certain measures if needed to curb the spread of the coronavirus.
The measures introduced so far under the new law include a legal limit on the maximum number of people allowed in shops and sports facilities (one per every 10 square metres of usable space) and a maximum limit for all events, including some private events (no more than eight people).
Under the new law, the government would be able in future to introduce more measures, ranging from limits on the numbers that can gather at public parks or beaches to closing down shops, restaurants, or public transport completely. The law is currently in force until September 30th, 2021.
Turnover-based government support for sole traders
If you are a sole trader and have lost income due to the pandemic, you can apply for government support. In order to be eligible, you should have had a turnover of at least 200,000 kronor (approximately $24,100) the previous year, and not have received unemployment benefits. Eligible sole traders can receive support to cover up to 75 percent of the lost turnover, up to a maximum of 120,000 kronor.
You can apply for support to cover the periods March-April, May, June-July 2020, and the government has proposed extending this to January-February 2021. At the moment, the deadline for applications is January 31st, 2021.
Find out more about this support and how to apply from Verksamt.se, and fill in your application at Boverket.
Changes to your dental care high-cost ceiling
If you're registered with Sweden's Social Insurance Agency (Försäkringskassan), there is also a high-cost ceiling which means once you reach it, you don't pay any more for further treatment. This is recalculated every year, but because of the pandemic, many people postponed dental treatment or check-ups in 2020.
A law change brought in in September 2020 means that if you didn't go to the dentist between April and August 2020, and had already paid more than 3,000 kronor in the previous period, your high-cost period will be extended to make it easier for people to receive treatment without having to 'start over' when it comes to the high-cost ceiling.
This law applies until the end of August 2021. Read more about the law and find out how it might apply to you from the Social Insurance Agency.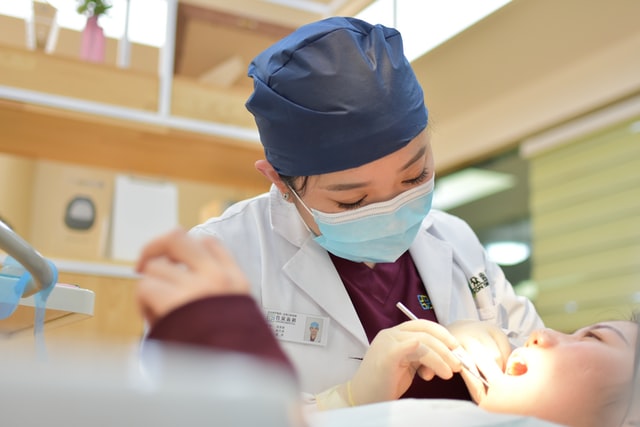 Photo: H Shaw/Unsplash
Restaurant laws
From July 2020, managers of restaurants, bars and cafes have been responsible for taking actions to curb the spread of the coronavirus in these locations.
The law has now been extended until May 31st, 2021. This means that managers must continue to follow the measures laid out by the Public Health Agency, which currently include ensuring a one-metre distance between tables, table service only, and a four-person limit on each group of guests. The exact measures required may be changed by the Public Health Agency (read more about what currently applies on their website), and the municipal environmental health authority is responsible for inspections and issuing any sanctions.
Covid-19 vaccination register
The first vaccines against the coronavirus were issued in Sweden in late December. Under a law that came into effect on January 1st, 2021, all vaccines against the virus will be tracked in a national register.
Changes to school laws
The government has given heads of schools the option to use distance learning for all or some of their lessons, if this is necessary to reduce the risk of crowding either on public transport or in the school itself. This has been in place since November 2020.
This applies to schools for 13-15 year-olds (högstadiet), as well as upper secondary schools typically for students over 16 (gymnasiet).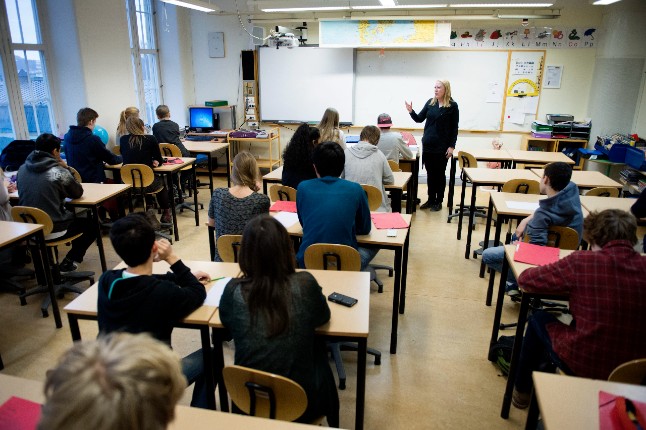 A lesson for year eight at a school in Stockholm. Photo. Jessica Gow/TT
But it's not mandatory, so parents and teachers will need to stay up-to-date with the plans for their schools, which will depend on the local coronavirus situation and the school's individual circumstances such as class and room sizes.
Schools are still responsible for providing lunches even if classes are taught remotely.
Annual general meetings adjusted
If you are involved in a registered company or association in Sweden, including housing associations (bostadsrättsföreningar) there is a legal obligation to hold an annual general meeting (stämma) and this usually has to be held in person. During the Covid-19 pandemic, a temporary law gives boards the possibility to reduce the number of people present, for example by holding the meeting online or via postal voting instead, which is not usually allowed. 
It has been extended beyond the original end date of December 31st, 2020, and now will continue to apply until the end of 2021.
Higher student loans available
The pandemic has had an impact on the labour market, prompting many people to return to studying. From January 1st, 2021, a new law means that adult students who have previously been wage-earners have the opportunity to apply for an additional supplementary loan from the year they turn 25.
The supplementary loan (tilläggslån) available to people who have previously been employed will be increased by around 25 percent or 1,000 kronor per month during 2021 and 2022, reaching around 5,100 kronor in total for 2021. You can find more details about how to calculate your loan amount from CSN, the organisation responsible for Swedish student finance.