Similar to the forms everyone in Italy had to carry during the nationwide lockdown in spring, these slips state who you are, where you're going and why, and that you're aware of the rules in place as well as the penalties for breaking them.
The good news is that there's only one autodichiariazione, published by the Interior Ministry and valid in every region of Italy. You can download it here.
Here's what it looks like: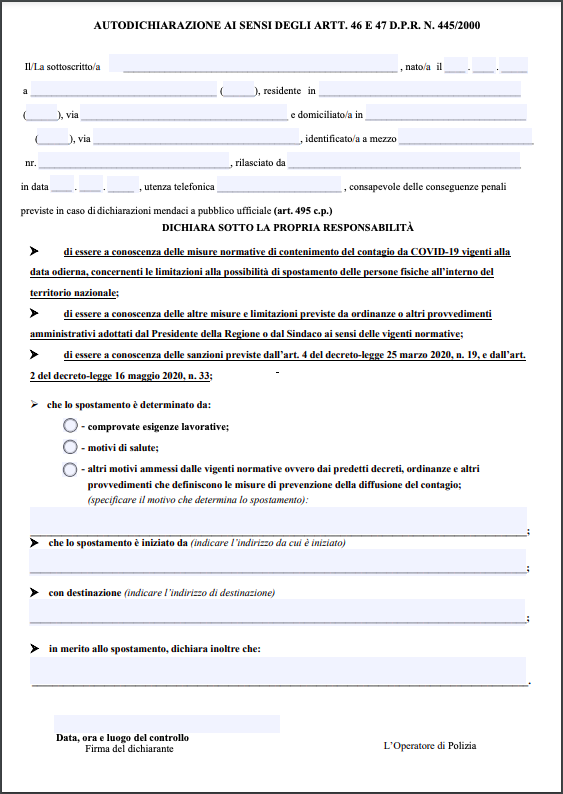 It's the same form that you currently need to fill out if you leave the house during the evening curfew (between 10pm-5am every day).
But with the whole of Italy classed as a 'red zone' for a total of ten days over the holidays, everyone will need it when leaving the house on those dates, according to Italy's current set of coronavirus rules.
For the ten days in which Italy is in lockdown – December 24-27th, December 31st-January 3rd, and again on January 5-6th – you should plan to leave your house only for essential reasons, like going to the supermarket or seeing a doctor.
CALENDAR: What are Italy's new Covid-19 rules over Christmas and New Year?
You can also go out once per day to visit friends and relatives within the same region – more details on that rule here.
Travel to a second home within your region is allowed.
However, when making a trip for any of these reasons on the days Italy is classed as a red zone you will need to take a completed self-certification form with you. Even if you're just going to the pharmacy, or out for a run (solo exercise "near home" is allowed under the current emergency decree).
Non-essential travel between regions is banned for the entire period December 21st-January 6th.
Travelling out of your region for work, health, emergency reasons, or to return home is permitted at all times but you will need to take the completed form with you.
If you can't print the form, you are allowed to copy it out by hand.
Police carrying out checks on movements will also have copies of the form ready to give out.
How do you fill it out?
According to the Interior Ministry, you don't have to print and fill in an autodichiarazione in advance: if police officers stop you, they can supply you with the form and you can complete it on the spot. 
Here's the information it asks for, in order:
Full name
Date of birth
Place of birth
Town, province and address of permanent residence
Town, province and address of current residence (if different)
Type, number, issuing authority and date of issue of official ID
Phone number
Reason for travel: work; health reasons; other essential reasons (give details)
Place of departure
Destination
Any additional information
Date, time and place of police check (leave this blank until you're stopped)
Signature
The form should be filled out in Italian.
Make sure you take a picture of the completed form for your records before you hand it over to police. 
What happens if you don't fill out the form?
If you're stopped by police and don't have your form with you, the police will give you a copy and help you fill it out.
Either way, police are likely to want to verify your story – for example by asking for proof of any appointments, or calling your workplace or healthcare provider.
If you can't give a satisfactory reason for being out during curfew or at other times when movements are restricted, you could face a hefty fine. According to the Interior Ministry: "the administrative penalty ranges from 400 to 1000 euros with a 30% reduction if payment is made within 5 days (280 euros)"
And if you're found to have given false information on your form, you could face prosecution: "The crime of false attestation to a public official, provided for by article 495 of the criminal code, is punished with imprisonment from 1 to 6 years, in the event that in cases in which it must be presented, the self-certification given on movements is not truthful."
READ ALSO: What you can and can't do in Italy this Christmas