I lived in Stockholm from 2011 to 2015 and never really noticed the English language. Sure, there were menu translations, the occasional British pub, and an English language corner in most bookshops… 
But then I turned away for two seconds (well, five years)… came back to visit, and learned that English appears to have become the city's official language. 
That's right. English has well and truly taken over Stockholm. 
For example, I visited the hip Gast cafe in Vasastan, and was gobsmacked to see that the entire menu on the wall was in English. The sign out the front says "Welcome in for brunch…", their social media pages are only in the same English that the baristas use… in fact the only Swedish things were the name of the cafe (which means Ghost) and the cinnamon buns. 
I couldn't help but wonder how an elderly Swede might feel to have to decipher such a menu in their own capital. 
On a visit to Swedish clothes shop Cos in Östermalm, I watched a British cashier answer Swedish-speaking customers in English. And no one seemed to mind or even notice. One 60-year-old woman switched to English with the same ease I've watched Swedes assemble flat pack furniture.
If these exchanges happened in Paris (where I live), the local customers would not be impressed. 
"We're in France, we speak French," is a phrase I've heard more than once (in French, of course).
In fact, I've been in Stockholm for a few days now, walking around in utter bamboozlement. 
My (Swedish) wife said her hairdresser only speaks English. I turned on the TV and marvelled to see Eurovision hero Loreen speaking more English than Swedish on the hit reality show Så mycket bättre. Her first words to fellow Swedish contestants were: "OK, give me the news, give me the nasty details".
And the Swedish Queen just did a speech in English about Alzheimers on the Royal Family's Instagram page.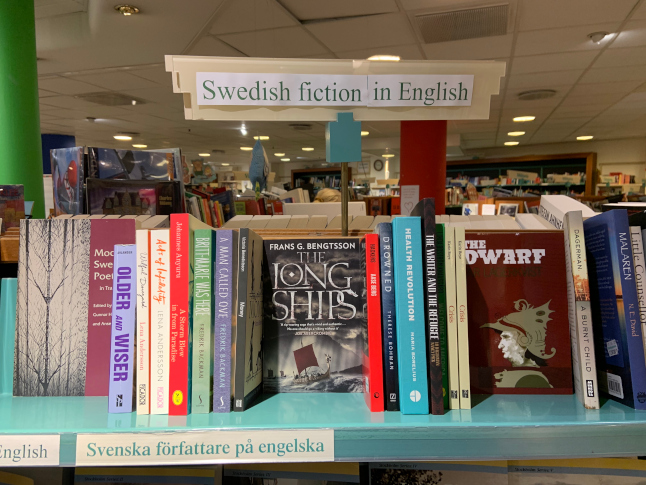 Swedish fiction in English at the Hedengrens book shop in Stockholm. Photo: Oliver Gee
Elsewhere, Hedengrens book shop on Birger Jarlsgatan says half their stock is in English. They even had a whole shelf with books from Swedish authors which had been translated into English. Take a second to think about that. Bookshops in foreign countries are usually like airports, with their English section (if it exists) offering just a few bestsellers and crime novels. 
Want more? Well, company voice messages often begin with "For English press 1" before the Swedish begins; I've seen up to six English shop names in a row on Drottninggatan; and don't even get me started on Swedes peppering their conversations with highly odd English phrases. 
So what does it all mean?
Well, I think we can take a few things away from this. Obviously, Swedes are excellent at English, but we knew that already.
It also shows, perhaps, that Stockholm realises that if it wants to play on the world stage, then it better be ready to embrace English. 
But my big takeaway has been that maybe, just maybe, you don't need to learn Swedish if you want to live in Stockholm. English is more than acceptable, seemingly everywhere.
And I can't help but feel a little bit sorry for the newcomers who choose to stick to English, and who risk missing out on the pleasures of learning such a beautiful language as Swedish.
Oliver Gee runs the brand new podcast The Earful Sweden. The latest episode features more on the English language in Stockholm with guest James Savage from The Local. You can listen to the episode below and follow The Earful Sweden on Instagram here.