Touched by both the Holocaust during WWII and East German totalitarianism in the postwar, Salomea Genin is a living example of the weight of the past in Germany today.
At first, it might seem strange that Salomea Genin chooses to remain in the city that once rejected her as a Jew and that holds memories of an oppressive state in the German Democratic Republic (GDR).
READ ALSO: Why Germany will never forget the Stasi era of mass surveillance
Her story sheds light on how she makes a life in the shadows of her own history. 
I spoke with Genin about her experiences as a Jew, as well as a once committed and now ex-Communist, at the end of 2019. She lives in an area of Berlin, near Rosenthaler Platz in Mitte, once known for its thriving Jewish community.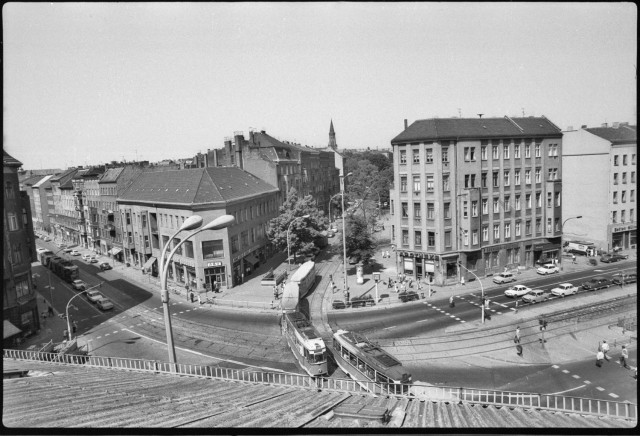 Rosenthaler Platz, a traditionally Jewish area of Berlin, in 1989. Photo: Wikimedia Commons/Gerd Danigel. 
The walls of her apartment showcase an impressive range of aboriginal art from her visits back to Australia. 
Born in Berlin 
Salomea Genin was born in Berlin in 1932 to Polish-Jewish parents. In May 1939 after her parents divorced, she fled to Melbourne, Australia with her mother and two sisters, where she remained until 1954. She describes herself as a "lonely child" born to a "dysfunctional family." 
During her time in Australia, Genin became a member of the Eureka Youth League of the Australian Communist Party and attended the "3rd World Youth Festival" in East Berlin in 1951, an experience which later inspired her to move to the GDR as "a very convinced young Communist." 
After a nine year struggle to be allowed into the GDR, Genin returned to Berlin -then East Berlin – in 1963, just two years after the construction of the Berlin Wall. 
READ ALSO: How and why was the Berlin Wall built?
In the early 1980s, Genin realized that she had been living in what she describes as a "police state" and became suicidal.
She speaks very candidly about her own journey to overcome trauma, telling me "I didn't know I was traumatized until my mid-40s."
Sharing her own story saved her life, she said. 
Sharing her story 
Through psychotherapy and writing her first book, "Schneidl and Salomea," she found strength. The memoir, which is available in English, describes her mother (Scheindl) and Genin's early memories of fleeing Germany as a child. 
In May 1989 she renounced her membership to the SED, the East German Communist Party, an act that brought attention to her in the West German press.
Genin then wrote a book about her experiences as a Jewish woman in the GDR. She now spends much of her time telling her story across Berlin.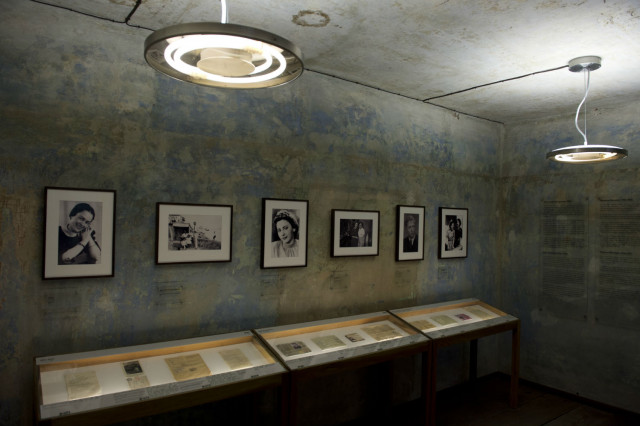 An exhibit at Otto Weidt Museum in Berlin, which is housed in the former workshop. Photo: AFP
After our interview, Genin invited me to attend a presentation that she was giving at the Otto Weidt Museum that evening. 
Otto Weidt was the owner of a brush and broom factory who employed primarily blind and deaf Jews during World War II and fought to protect them on several occasions from Nazi persecution, even establishing hiding places for them as pressures increased. The museum near Berlin's Rosenthaler Platz celebrates his life and heroism. 
At the event, Genin shared her memories of living in Berlin during the time of Nazi power. She regularly shares her story in theatrical form as part of the play "Atlas of Communism" at Berlin's Gorki Theater. In the show, Salomea plays one of seven women who tell their stories about life under Communism.
Coping with the past 
Genin talks openly about her involvement with the Staatsicherheitsdienst, commonly known as the 'Stasi,' or the GDR Ministry for State Security.  She told me, "I am one of the few…people who admits to having worked with the Stasi, which is what I did when I first came here because I was a convinced Communist." 
Genin "felt deeply guilty" upon realizing how much she had personally contributed to "turning the GDR into a police state." She believes that it is essential for others to be open about their own guilt as well. 
READ ALSO: East Germany: 10 things you never knew about the GDR
"Speaking openly about this is my way of taking responsibility for what I did and it is also the only way I can cope with my guilt feelings."
Along with her activist work, Genin joined a group known as Child Survivors Deutschland, an organization that is committed to helping child survivors of the Holocaust work to overcome trauma.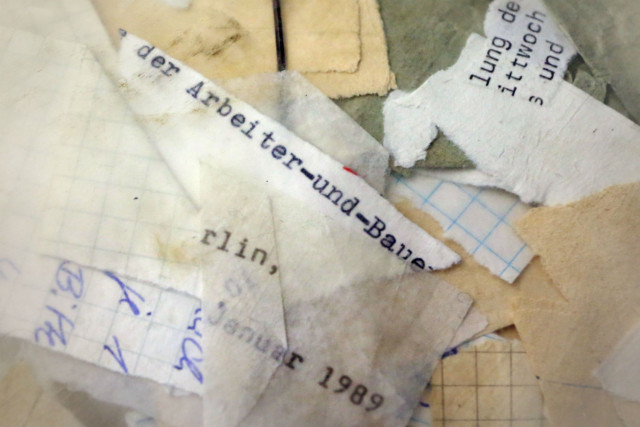 To this day, shredded Stasi files are still being pieced together. Photo: DPA
A life in Berlin 
Finally, I wanted to know why Genin has stayed in Berlin—the city that once rejected her. 
She thinks for a moment and then answers with her typical sharpness and transparency. 
"I realized I've had so many inner struggles and challenges living here that I got to know myself as I never would have if I had stayed in Australia. I left looking for a place to belong.
When I thought of leaving again I suddenly realized that I felt at home in Berlin because of these struggles over a period of 25 years, and because I also brought up two children there. It was then that I decided to stay."
READ ALSO: 'We must send a signal': Germany to tighten law on anti-Semitic crimes