There are variations of semlor (sehm-lohr is plural, sehm-la is singular) throughout Scandinavia and in Sweden they go by several different names: semlor in the north, fastlagsbullar in the south, and hetvägg if they are eaten with warm milk and sprinkled with cinnamon. 
The buns hold a notorious role in Swedish history linked to King Adolf Fredrik. On the day now known as Fat Tuesday (fettisdagen) in 1771, he collapsed and died after eating a meal of lobster, caviar, sauerkraut, smoked herring, champagne… and 14 servings of semlor, his favorite dessert.
WATCH: What's the fuss about Sweden's semla bun?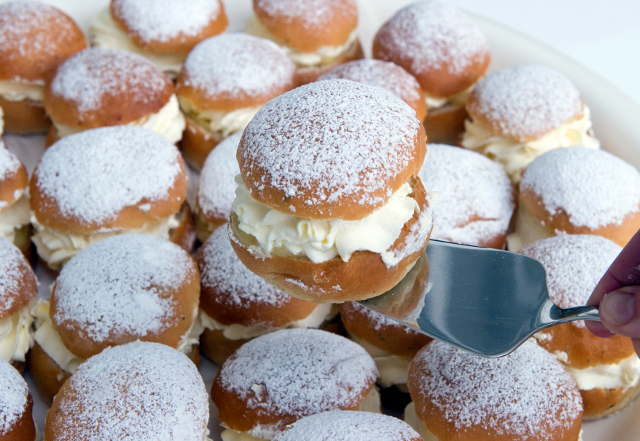 Swedes are nuts for semlor. Photo: Bertil Ericson/TT
Summary
Makes 24 small/10 large buns
Preparation: 25 minutes
Cooking: 20 minutes
Total: 45 minutes (plus 1-2 hours for proving)
Ingredients
Semlor buns
75 g (5 tbsp) butter
300 ml (1¼ cups) milk
10 g (3¼ tsp) "instant" fast action dried yeast
½ tsp salt
55g (¼ cup) sugar
1 tsp freshly ground or cracked cardamon
500 g (3½ cups) plain (all-purpose) flour, extra may be required
1 egg
Filling
200g (7 oz) mandelmassa (almond paste)
120 ml (½ cup) milk
240 ml (1 cup) whipping cream
icing (powder or confectioner's) sugar for dusting
Method
1. Melt the butter in a saucepan over medium heat. Add the milk and heat until luke warm or 40°C (104°F). Remove from the heat. Mix in the yeast.
2. Combine the salt, sugar, cardamom and most of the flour in a large bowl until thoroughly mixed.
3. Make a well in the centre and add the milk mixture and the egg. Knead the dough for about 5 minutes, until it is sticky, but doesn't stick to your hands, using the minimum amount of flour possible.
4. Leave the dough to rise covered with a kitchen towel for about 30 minutes.
5. Place the dough on a lightly floured surface and knead until smooth adding flour as needed if the dough is too sticky, but keep the addition of flour to the bare minimum. Line two baking sheets with baking parchment. Work the dough into balls of the desired size (keeping in mind they will get larger as they rise and as they bake) and place on the baking sheet. Continue until all the buns are formed and let them rise, covered with a kitchen towel, 30-40 minutes (use the longer time for smaller buns). Meanwhile, preheat the oven to 200-225C. Use the higher temperature for smaller buns.
6. Bake large buns in the lower part of the oven for 20-25 minutes. Bake smaller buns in the middle of the oven for 7-10 minutes. When they are nicely browned, remove them and let cool completely under a kitchen towel. The buns dry out quickly so once they have cooled to room temperature place them in an airtight container. If they dry out too much, you can wrap them in a damp kitchen towel and heat in the microwave for a few seconds. Keep an eye on the towel so it doesn't catch on fire. The buns freeze really well so you can enjoy them for a longer period of time. Just thaw them out before continuing with the next steps of removing the lid and filling them.
7. Slice a thin portion off the top of each bun and set aside. Using a fork, tease out a small layer of crumbs from each bun and reserve them in a bowl. Grate the almond paste using the small holed side of a grater and combine it with the reserved crumbs and the 1/2 cup (120ml) of milk. Blend everything well until it forms a thick paste. Using a metal spoon helps with being able to blend and mash everything well. It should be thick enough that it won't run down the sides of the finished semlor.
8. Place enough of the filling in each hollowed bun so it comes to the edge without going over the side.
9. Whip the cream until very stiff, as shown above. Pipe or spoon the cream over the top of the almond paste filling creating a large mound.
10. Place the lids of the buns on top of the cream and dust them with icing sugar. If you are not serving them immediately, wait to dust them with the sugar until ready to serve and keep them covered and refrigerated. They are best eaten on the day they are filled, ideally within a couple of hours.
Tips
– Don't use too much flour, as it makes the buns less fluffy.
– To try the hetvägg version, place a finished semla in a bowl and pour hot milk either over the bun or around the base. Dust with cinnamon and enjoy.
Recipe courtesy of John Duxbury, Editor and Founder of Swedish Food.