"It's the most painful decision of my life," Guttenberg said at a hastily arranged press conference in Berlin. "The reason is I am no longer certain I can carry out the high responsibility of my office."
The conservative minister had informed Chancellor Angela Merkel and President Christian Wulff earlier of his intention to step down.
"I was always prepared to fight, but I reached the limits of my strength," he said.
His resignation marks the final chapter of a scandal that brought down Germany's most popular politician.
When accusations Guttenberg plagiarized parts of his dissertation surfaced nearly two weeks ago, the minister initially played down the matter, calling the allegations "abstruse." But just days later he dropped his Dr. title, admitting that he made "serious errors," though unintentionally.
Guttenberg's alma mater, the University of Bayreuth, later officially stripped the 39-year-old political shooting star of his law doctorate.
However, Guttenberg on Tuesday made clear he was not stepping down due to the plagiarism affair, but rather because the scandal was deflecting from the reform of the German military and the challenges faced by the nation's soldiers.
"There has been a dramatic shift in the attention of the public and the media," he said, referring to how the recent death of troops in Afghanistan had been overshadowed. "When this is at the expense of the soldiers I can no longer justify it."
The Bavarian aristocrat personally thanked Merkel, who had faced increasing criticism for her support of Guttenberg in recent days.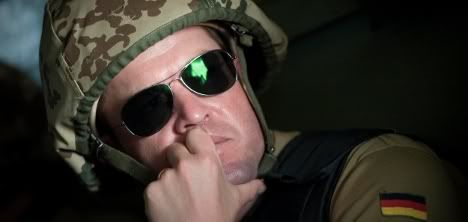 Click here for Guttenberg's career in photos.
In an interview published on Tuesday morning, Saxony's former premier, Kurt Biedenkopf of Merkel's own Christian Democratic party (CDU), slammed the chancellor's observation that she had not appointed Guttenberg as an academic researcher to her cabinet, but as defence minister.
"The entire person has to be gauged, not just the office. And a person can't be split in two," he said. He echoed Bundestag speaker Norbert Lammert, also of the CDU, who called the plagiarism affair the "nail in the coffin" of the credibility of Germany's political class.
Voices from the world of academia had also grown increasingly critical of Guttenberg and Merkel. Oliver Lepsius, a legal scholar at the University of Bayreuth, where Guttenberg originally got his doctorate, demanded the Minister's resignation.
"The academic community cannot accept these kinds of practices," he said. "If there are no consequences from the chancellor or the federal government, the relationship between science and politics is going to suffer appreciable damage."
Merkel on Tuesday afternoon said she had accepted the defence minister's resignation with "a heavy heart" and that she would appoint his successor shortly after conferring with her Bavarian CSU allies.
"I deeply regret his resignation, but I also have understanding for his personal decision," she said.
But Guttenberg's departure will deprive the chancellor of his star power as her conservatives face six state elections this year.
"This is a big loss for Angela Merkel," political scientist Gero Neugebauer told news agency AFP. "She is losing an important election campaigner … Nobody else can excite the same level of interest and excitement."
The Local/DAPD/DPA/mry/ka/kdj