More than 60 fires burned in coastal communities along the North Frisian Islands in the state of Schleswig-Holstein, in addition to some in nearby Denmark's South Jutland region.
Since the 19th century, the Biikebrennen, which means "fire signal" in the regional dialect, has taken place on February 21 on islands such as Sylt, Amrum, Föhr, Pellworm and others, but the origins of the festival are uncertain.
Just after sunset towns and some private homes light their Biike, or fire, and some gatherings are accompanied by theatre, dance and a traditional kale dish.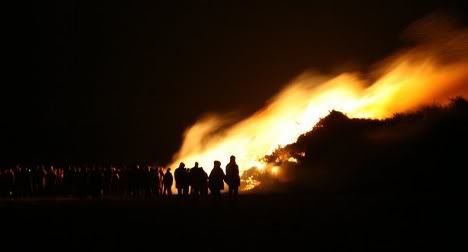 Click here for photos of the fires.
Communities in the area often save their discarded Christmas trees from which they build massive towers for burning.
A strawman symbolizing winter is also often burned, which has led some historians to conjecture that the practice derives from the pagan midwinter feast.
Others believe it may have developed through the practice of setting up light beacons for whalers centuries ago along the North Sea coast, which is characterized by the tidal mudflats of the Wadden Sea, or Wattenmeer.
The Biikebrennen is an official state holiday, and is such a popular tourist attraction that other communities outside the region have taken to joining in on the celebration to attract guests.
Click here for a photo gallery of the Wattenmeer.
DPA/The Local/ka